HOME »
Case
»
The introduction of gantry crane
The introduction of gantry crane
The introduction of gantry crane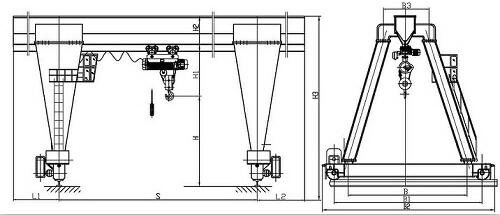 Gantry crane is a bridge on both sides by supporting leg on the ground track of bridge type crane
When the bridge side used to direct bearing on the orbit of elevated or tall buildings, the other side is
supported by supporting legs on the ground of bridge type crane is called the semi gantry crane
Gantry crane by the door frame, lifting the car, running mechanism and electric control equipment, etc.The
door frame by the upper bridge (including main girder, end girder), leg and lower beam, etc.Girder can to
one side or both sides outstretched leg, the formation of cantilever.Lifting mechanism are installed on
lifting the car and the car running, organization also can install jib frame, through the luffing boom and
rotation on expanding our scope of services of crane.
Eletctric hoist installed on the door frame girder, along the trolley track horizontal run.Crane rail
longitudinal along the open yard foundation, in the work in a rectangle.
Gantry Crane is one of our main products. We can supply various Gantry Crane for our client.
For more details, please contact us via info@nucleoncranegroup.com