jib crane
Floor Mounted Jib Crane Manufacturers
Developing in recent years ,The jib crane is a set of middle or small type lifting equipment ,Which forms a complete set with electric chain hoist ,.
Jib revolving usually adopts manual pulling ,which is reliable and destinctive .It possesses such characteristics as high efficiency ,energy-saving ,effort-saving ,time-saving ,Operating arbitrarily in three -dimensional space makes it show much grater superiority than other conventional equipments for lifting inshort distance and dense lifting occasion .which can be widely used in different places of kinds of industry .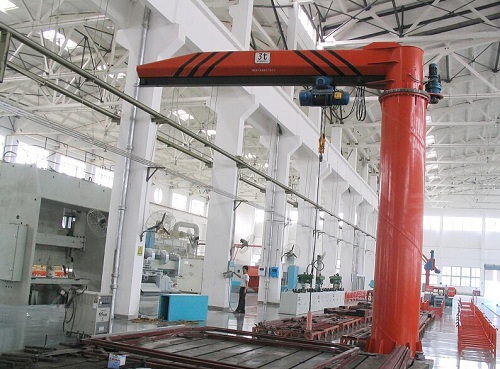 Product Description:
1. Rated Lifting capacity: 0.5 to 16t.Two types of Jib crane: BZ model(light medium) and BZD model(heavy duty medium)
2. Arm length: 3 to 7m (Can be designed and fabricated according to your special requirements)
3. Lifting Height: No limited (Can be designed according to your real requirement)
4. Power Source: 3ph, 380V, 50HZ or under customer's local industry voltage.
5. Working Temperature: -25 to +40°C
6. Lifting mechanism: Electric Wire rope hoists or chain hoist
7. Slewing Mechanism: Electric motor type or Manual control type(Two kinds type on optional)
8. Main Material: Q235B Mn Steel(It could meet your speical material requirement)
9. Slewing angle are 90, 180, 270, 360 degree, which are on your optional as per your actual demands!