HOME »
Product
»
Single Beam Gantry Crane
Single Beam Gantry Crane
MH Model Single Beam Gantry Crane is used together with CD MD Model electric hoists.It is a track travelling small and medium-sized crane.Its proper Lifting weight is 3 to 20tons.Proper span is 12 to 30 meters,its proper working temperature is-20℃ to 40℃.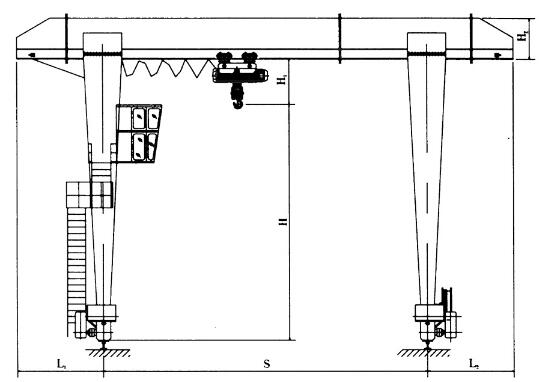 Single Beam Gantry Crane is applied to do common lifting and unloading works, this kind of crane is composed of bridge framework, support legs, crane traveling mechanism, electric equipment( electric hoist) , strong lifting mechanism, the frame uses boxed-type welding mechanism, Power is supplied by cable or slide wire. The surface of facing wind is very small, because of its steel-pip leg, and is characterized in light deadweight and strong hoisting capacity.
This Single Beam Gantry Crane is a regular crane widely used at open ground and warehouses to load,unload or grab materials.It has two controlling methods,namely ground,controlling and room controlling.
Nucleon mould lifting Single Beam Gantry Crane is used together with CD MD model electric hoists, thus can finish the single speed / double speed lifting of crane.
Nucleon Overhead Crane is whole-owned subsidiary of Nucleon Crane Group, which is China Overhead Crane Factory, main product: Overhead Crane, Gantry Crane, Electric Hoist and Winch. founded in 2005, the registered capital of 270 million Yuan, covers an area of 450000 square meters, There are 1700 staff in our company and 400 people of them are sebior and medium technicians. We are specialized in manufacturing Gantry Crane, Overhead Crane, Jib Crane, Electric Hoist, Electric Winch, and we are located in Henan Crane Industrial Park, which has good reputation by "Town of China Crane"
Nucleon Crane Group is china famous Single girder Overhead Crane Manufacturer and double girder Overhead Crane Manufacturer.
See more:http://www.nucleoncranegroup.com
http://www.nucleonoverheadcrane.com
Email:info@nucleoncranegroup.com
If you have any questions, Please don't hesitate to contact me.