HOME »
Case
»
The Composition of Electric hoist bridge crane
The Composition of Electric hoist bridge crane
The Composition of Electric hoist bridge crane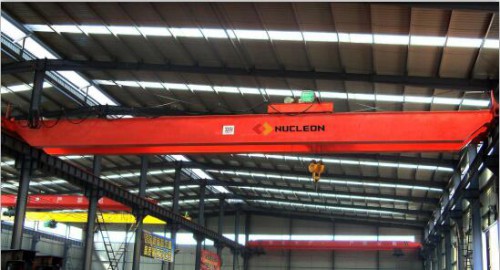 Electric hoist bridge crane hoist mechanism is composed of reducer, reel device, tapered motor, hook configuration, fixed in the small frame on the lifting motor through the coupling and the middle shaft and the slow coupling mechanism, the volume The drum is mounted in the middle of the main unit and the wire rope wound on the spool is lifted and lowered by means of a hook device and a fixed pulley. The gears and gear shafts are made of high strength alloy steel, and after heat treatment, high strength, good wear resistance, the drive shaft with a rolling bearing support, the gear by the sealed in the slowdown of the chassis Lubricant lubrication inside.
The lifting motor is composed of an electric motor and a brake in one body and a tapered rotor brake motor. The motor operates according to the principle of the brake rotor. When the motor is connected, the tapered rotor produces axial movement, the brake is disengaged, the motor is running normally, and after the power is turned off, the rotor returns under the action of the spring force, and the brake wheel and the rear cover are tapered The brake wheel also acts as a fan wheel, and the motor has a good heat dissipation, and the brake ring is made of rubber resin. Good wear resistance, reliable braking, easy adjustment, easy to replace.
Lifting the motor can also be used in two-speed mechanism, divided into two forms: backpack and axial.