HOME »
Case
»
MH Single Beam Gantry Crane
MH Single Beam Gantry Crane
Chinese Nucleon Brand MH Single Beam Gantry Crane With Electric Hoist Crane
MH Single Beam Gantry Crane has box type and truss type, the former have good techniques and easy fabrication, the latter is light in dead weight and strong in wind resistance. For different usage, MH gantry crane also has cantilever and non-cantilever gantry crane. If have cantilevers, the crane can load the goods to the crane edge through the supporting legs which is very convenient and high efficiency.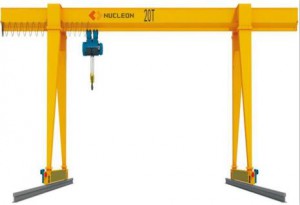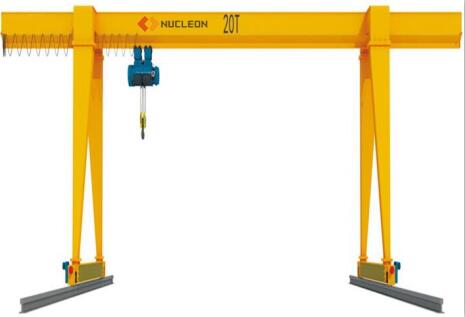 Main Features of MH Single Beam Gantry Crane:
1. Simple and compact structure, steady performance.
2. Easy to install and high efficiency.
3. Overload, low voltage protective device.
4. Pendent control and remote control.
5. Easy maintenance.
Preventing hook clashing the top, set shields and barriers.
7. Circuit self-test protection device, running the travel limit to protect the current lacking of any phase.
8. Outdoor cranes are equipped with lifting mechanism, electrical control box and rainproof devices.
9. Anti-collision, sound and light alarm devices. Equipped with rail clamp.