HOME »
Case
»
jib crane accessories electric hoist
jib crane accessories electric hoist
The jib crane accessories electric hoist maintenance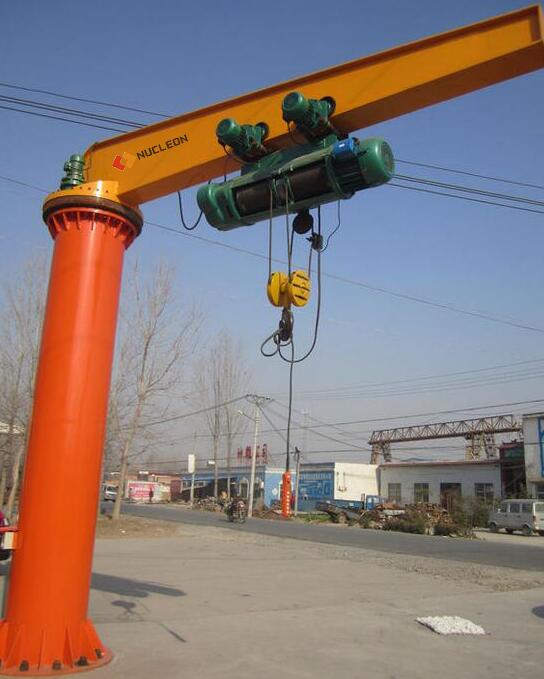 New installation or after overhaul of electric hoist, First of all should be empty test run several times. It is prohibited to electricity running.
Before normal use, the rated load shall be 125%, Lifting off the ground about 100 millimeters, 10 minutes of static load test, check whether the normal.
The dynamic load test on the rated load weight, Lifting is about 100 mm from the ground, After test to check the mechanical transmission parts, electrical parts and the connection whether normal and reliable.
In use, it is absolutely forbidden in an environment that is not permitted, And more than the rated load and rated closing times per hour (120).
Installation and maintenance, must strictly check the limit switch whether flexible and reliable. When hook rose to the limit position, hook enclosure to the drum shell of distance must be greater than 50 mm (10 t, 16 t, 20 t must be greater than 120 mm). When the hook fell to the limit position, should ensure the safety of steel wire rope on the drum circle, effective safety strap (must be at least 2 laps.
Not allowed to press at the same time two electric hoist pushing in the opposite direction of the flashlight door button.
After the completion of the work must be total power brake away, cut off power supply.
Electric hoist by specialist manipulation, manipulator should fully grasp the safety operating rules, it is strictly prohibited to slanting inclined condole.
9. In use must be regular inspection on electric hoist by specialized personnel, Find fault take timely measures, and carefully recorded.