HOME »
Case
»
Warehouse Double Girder EOT Crane Manufacturer
Warehouse Double Girder EOT Crane Manufacturer
Warehouse Double Girder EOT Crane Manufacturer
Double Girder EOT Crane is composed with girder frame, crane travel device, and the trolley with lifting and moving device. There is pave the rail for the trolley moves on the main girder.
Assemble the moving table on the outside of  the two main girder, on side is prepare for the assemble and the maintenance the crane move device, another side is prepare for the assemble of the trolley conductor device.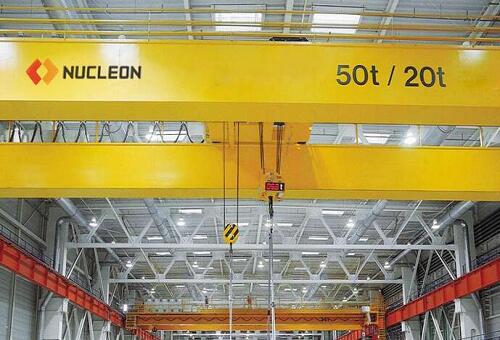 There are full field of the view cabin suspend under the main girder, there are joint control desk or single control box packed within the cabin, assemble the sidelong ladder between the cabin moving table.
The main girder joint with the two side end carriage which with the joint point in the middle.
Nucleon Crane Group is a Double Girder EOT Crane Manufacturer with well equipped testing equipment and strong technical force. Due to wide range products, good quality, reasonable prices, considerable services and stylish designs, our company has become one of the most competitive crane manufacture for enterprises among crane industry.
Our main products are engineering equipment, including overhead crane, gantry crane, foundry crane, electric hoist and winch, etc. Nucleon Crane Group has transformed to a mature Double Girder EOT Crane Manufacturer with advanced technology.
See more:http://www.nucleoncranegroup.com
http://www.nucleonoverheadcrane.com
Email:info@nucleoncranegroup.com
If you have any questions, Please don't hesitate to contact me!!