HOME »
Case
»
Welcome Burkina Faso customers visit to Nucleon Overhead Crane Factory
Welcome Burkina Faso customers visit to Nucleon Overhead Crane Factory
Welcome Burkina Faso customers visit to Nucleon Overhead Crane Factory
On May 28, 2018, Burkina Faso customers visited Nucleon Overhead Crane Factory.  And this time the customer come to China is to find a Double Girder Overhead Crane Factory. After friendly negotiations, we achieved further consensus of cooperation.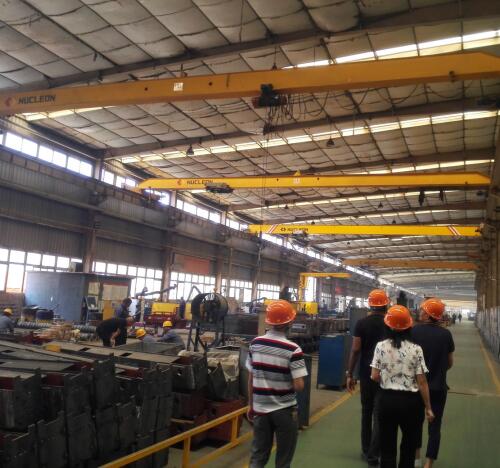 To date, our customers include independent Overhead Crane Factory, lifting equipment dealers and professional end customers. The reason they choose Nucleon Overhead Crane Factory is that compared to other brands Nucleon Overhead Crane Factory 's product works better, have more advantages and more features. At any time or anywhere, Nucleon Overhead Crane Factory 's products are used by our customers for the highest standards and the most demanding applications.
Nucleon Crane Group is a crane manufacturer with well equipped testing equipment and strong technical force. Due to wide range products, good quality, reasonable prices, considerable services and stylish designs, our company has become one of the most competitive crane manufacture for enterprises among crane industry.
Our main products are engineering equipment, including overhead crane, gantry crane, foundry crane, electric hoist and winch, etc. Nucleon Crane Group has transformed to a mature manufacturer with advanced technology.
See more:http://www.nucleoncranegroup.com
http://www.nucleonoverheadcrane.com
Email:info@nucleoncranegroup.com
If you have any questions, Please don't hesitate to contact me!!