HOME »
Case
»
Single Girder 3 Ton Gantry Crane
Single Girder 3 Ton Gantry Crane
MH Type Electric Hoist Single Girder 3 Ton Gantry Crane is middle-and small-size lifting equipment which runs at rails. It is mainly composed of gantry (girder, leg, lower cross beam, etc.), hoisting mechanism, travelling mechanism and electric control part. With the electric hoist as hoisting mechanism, it runs along the lower flange of the I-steel of the girder. The girder is of box-shape structure and truss structure. The former boasts good techniques and easy fabrication, and the latter is light in dead weight and strong in wind resistance. the complete machine features light dead weight, simple structure and easy installation and maintenance, so that it is applicable to outdoor operational sites of medium and small lifting load for general handling such as factories such as factories and mines, freight yards and warehouses. It is prohibited to operate in the environment with inflammable, explosive and corrosive gas.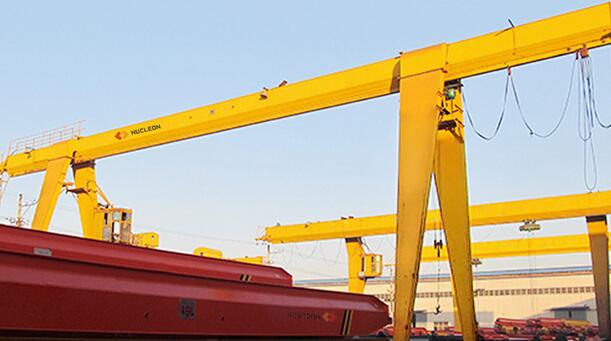 It has three operation modes; ground handle, wireless remote control and cab.
Nucleon Crane Group is a crane manufacturer with well equipped testing equipment and strong technical force. Due to wide range products, good quality, reasonable prices, considerable services and stylish designs, our company has become one of the most competitive crane manufacture for enterprises among crane industry.
Our main products are engineering equipment, including overhead crane, gantry crane, foundry crane, electric hoist and winch, etc. Nucleon Crane Group has transformed to a mature manufacturer with advanced technology.
See more:http://www.nucleoncranegroup.com
http://www.nucleonoverheadcrane.com
Email:info@nucleoncranegroup.com
If you have any questions, Please don't hesitate to contact me!!