HOME »
Case
»
5 Ton EOT Crane Specification
5 Ton EOT Crane Specification
Europe style Single girder 5 Ton EOT Crane Specification
5 Ton EOT Crane is of advanced technology, whose design is based on international standard: FEM (Europe), DIN (Germany), ISO(International), equipped with many advantages such as: strong rigidity, light dead weight, low power, outstanding structure design etc.
The configurations are very advanced, such as Schneider electrical appliances, ABM/Nord / SEW triple gear motor (three in one: motor, gear box, brake), galvanized high strength wire rope, self-adjusted disk brake, hard tooth reducer, programmable lifting limit switch, and so on.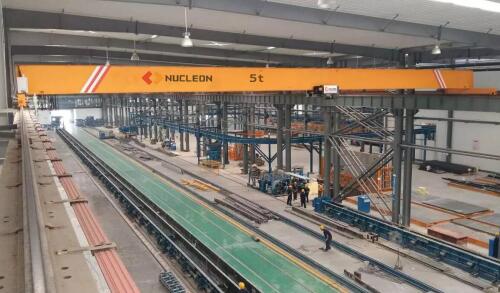 5 Ton EOT Crane Specification Unique features:  
1) high reliability, safety, free maintenance rate;
a) work duty: FEM2M, M5
b) Protection class: IP55
c) Insulation class: F
d) continuing rate: 60% ( for the high class motor)
e) Cooling rate: 30% than normal crane
f) Over temperature protection: 170℃
2) compact design, small size, low dead weight, low headroom
3) Low noise
4) Investment-saved—the workshop's civil work cost, due to crane's light dead weight and low wheel pressure.
5) Power-saved. The total motor power is much lower than normal design.
5 Ton EOT Crane Specification Euro-style Main Girder:
Main girder uses bias-rail box type structure, with optimized design and light dead weight. 
2. Steel material. Q235B, or, Q345B.
3. The cover and web plate should get surface rust removal by roller-way conveyor blasting machine before welding; this blasting machine can perform blanking, sandblasting, painting and drying, after that they get to Sa2 level.
4. The welding work of main girder should be performed on work platform (welding assembly unit). In order to avoid distortion of main beam, we adopts U-shaped welding assembly unit to assure that vertical deflection degree between the top cover plate and joint edge of stiffened plate and web plate is no more than H/200, and also effectively reduce the partial wave of web plate.
http://www.nucleoncranegroup.com/eot-crane.htmlNucleon Crane Group is china famous Single girder EOT Crane Manufacturer and double girder EOT Crane Manufacturer.
See more:http://www.nucleoncranegroup.com
http://www.nucleonoverheadcrane.com
Email:info@nucleoncranegroup.com
If you have any questions, Please don't hesitate to contact me.