HOME »
Case
»
Travelling Bridge Crane
Travelling Bridge Crane
10 Ton capacity double girder Travelling Bridge Crane, capable of lifting 5 M free hook travel. Double speed, completely assembled wired and tested at Europe.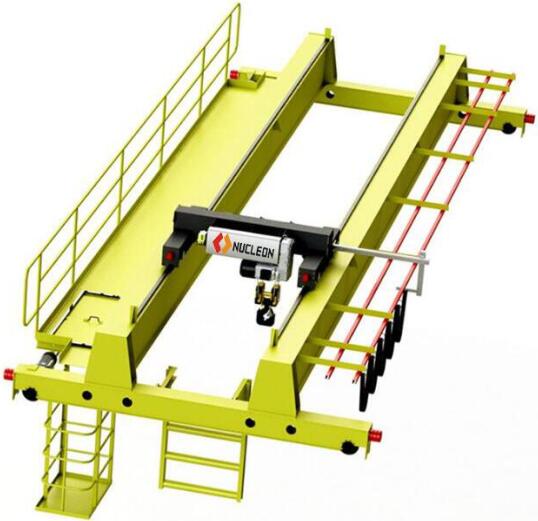   The Travelling Bridge Crane must be of M5 Classification and Class D
  The hoist must be designed and manufactured at EUROPE in accordance with following
standards:
  B.S 466 (1984) Group-EN 15011 Specification for power driven overhead travelling cranes for
general use for indoor duty
  B.S 2573 (1980) Rules for the design of Travelling Bridge Crane. Specification for classification, stress calculations
and design criteria for structures.
  Manufacturing and Test certificates will be submitted at the time of installation
  Bottom block must be heavy duty with "C" Type Hook and latch fitted with 360 degree rotation,
Ergonomic hook forging to DIN 15401 fitted with spring operated safety latch.
  Hoisting rope must be galvanized to ensure maximum resistance to corrosion and good & safe rope
life.
  Wire rope hoist must be fitted with a meter for measuring the operation working hours of the hoist
enabling PPL to carry out maintenance.
  The hoist gears must be hardened and ground to give an extended design life.
  An overload cut out must be available to prevent inadvertent overloading of the crane, the overload
cut out must be operated on torque arm basis so that no detrimental effect occurs on the headroom
of the hoist unit.
  The hoist must incorporate a hard wearing heat resistant rope guide and environmentally safe brake
linings.
Nucleon Crane Group is china famous Single girder Travelling Bridge Crane Manufacturer and double girder Travelling Bridge Crane Manufacturer.
See more:http://www.nucleoncranegroup.com
http://www.nucleonoverheadcrane.com
Email:info@nucleoncranegroup.com
If you have any questions, Please don't hesitate to contact me.