HOME »
Case
»
Small Gantry Crane For Sale
Small Gantry Crane For Sale
Small gantry crane is mainly composed  of gantry, crane crab, trolley travelling mechanism, cab and electric control system.
The gantry crane is a box-shape structure. The crab adopts vertical reaction wheel when the lifting load is below 20t, and horizontal reaction wheel when above 20t to run at the girder side. The girder is of single-girder bias track and the leg is L-shaped, so that the lifting space is large and the spanning ability is strong, making it easy to cover articles from the span to under the jib.
The closed cab is employed for operation, where there are adjustable seat, insulating mat on the floor, toughened glass for the window, fire extinguisher, electric fan and auxiliary equipment such as air conditioner, acoustic alarm and interphone which can be furnished as required by user.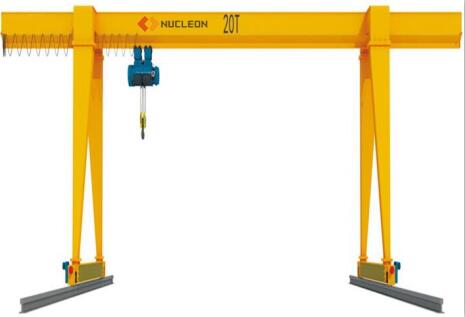 Nucleon Overhead Crane is whole-owned subsidiary of Nucleon Crane Group, which is China Overhead Crane Factory, main product: Overhead Crane, Gantry Crane, Electric Hoist and Winch. founded in 2005, the registered capital of 270 million Yuan, covers an area of 450000 square meters, There are 1700 staff in our company and 400 people of them are sebior and medium technicians. We are specialized in manufacturing Gantry Crane, Overhead Crane, Jib Crane, Electric Hoist, Electric Winch, and we are located in Henan Crane Industrial Park, which has good reputation by "Town of China Crane", Nucleon Crane Group is china famous Single girder gantry crane Manufacturer and double girder gantry crane Manufacturer.
In order to save cost and time for you, we need your provide below information:
1. Which kinds of Single girder gantry crane  or double girder gantry crane  do you need?
2. FOB or CIF price?(If CIF price, tell us your destination port)
3. Quantity?(set)
4. Lifting capacity?(ton)
5. Lifting height?(m)
6. Span?(m)
7. Which kind of material does if lift?
8. Working voltage?(V, HZ, Phase)
9. Working environment?
10. How many hours the crane works one day?
11. Any other requirement do you need?
See more:http://www.nucleoncranegroup.com
http://www.nucleonoverheadcrane.com
Email:info@nucleoncranegroup.com
If you have any questions, Please don't hesitate to contact me.