HOME »
Case
»
When the Double Girder Bridge Crane in the course of a sudden power failure
When the Double Girder Bridge Crane in the course of a sudden power failure
When the Double Girder Bridge Crane in the course of a sudden power failure what should we do?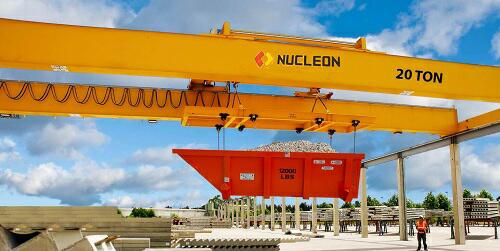 20 Ton Double Girder Bridge Crane
Now we summarize the possible problems as follows:
1, if failure will be dangerous situation? If so, that is the cranes with faulty operation. Normal cranes, power outages will remain in that state, because the motor is powered off.
2, Sudden blackout? This is the power supply business. If the inverter control, the inverter has a large internal capacitance, can support lifting and walking slowly stop. Basically, all the brakes are power lock, so power can also ensure safety.
3, Power cord, control line limit, button switch, should be checked
If there is no power to see the insurance to open the slide line slide and so on
4, Is not the power cord? If it is a trolley line, the structure of the current collector, check it
5, Is there an overload condition? You look at the overload protection settings are normal to know
I hope these suggestions will help you.