HOME »
Case
»
The Technical specification of gantry crane
The Technical specification of gantry crane
The Technical specification of gantry crane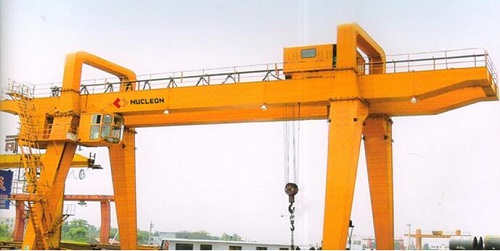 Crane subgrade and track laying must be consistent with the factory standard, track grounding resistance is not higher than 4 ohms.
In order to prevent the crane's cable from being damaged by the ground during the operation, the cable reel should be set.
Gantry crane powered by sliding line, must be marked on both ends of the slip line, At the same time, the sliding line is provided with a protective railing.
The running track should be straight, and the bolt should be fastened, Rail and crane operating range does not exist obstacles. The gantry crane should to loosen the rail clamp.
5.Before the gantry crane operation check the items:
(1) The appearance of mechanical structure is not abnormal, all fittings tighten.
(2) Wire rope appearance in good condition
(3) All safety limits are installed
Inside the cab floor with insulation layer, After power supply test, after confirmed that there is no leakage phenomenon can operate on the machine.
No-load operation before using the crane, Make sure that the agencies are functioning properly, Brake sensitive, all limit switches are flexible and effective, can operate on the computer.
Before the crane starts, Sound a reminder, Heavy lift and drop operation should be kept stable.
Lifting line of goods prohibited from people walking below. When the crane is empty, the hook should be 2m above the ground.
Lift the goods after to smooth running at a constant speed. When two cranes work at the same time, at least between the two to maintain more than 3m.
11.In the process of crane walking, pay attention to the drive wheels on both sides must be synchronized,  if appear deviation phenomenon, stop the operation, after the adjustment can continue to operate.
When working in the open air, the gantry crane encountered six or more than six winds, should stop the operation, lock the rail clamp.
When the deflection of the main girder of the crane exceeds the specified value, To continue to use after repair.
At the end of the work, the gantry crane must be parked on the stop line and fastened with a rail clamp, and the hook must be lifted to the upper part.
At the end of the work, the controller must be hit to zero, disconnect the power supply, Close and lock the cabin doors, Windows.