HOME »
Case
»
The advantages of jib crane
The advantages of jib crane
The advantages of  jib crane

It is easy to install. The wall type jib crane only needs to be installed on the wall or the upright column without occupying the ground area. The column of the jib type hanging crane occupies a small area, Can use the embedded anchor bolts or heavy anka bolt methods such as fixed. If you need, we can provide the anchor bolts and installation template.
Shorten the handling time, improve work efficiency. In a certain location on a cantilever crane, workers can lifting at any time, Handling all kinds of equipment and artifacts, can greatly shorten the non-production time, improve work efficiency, reduce the labor intensity of workers. Just put a little investment, and can get much in return. When you need only on a small scale when transporting equipment or artifact, You can consider jib crane for you to solve the problem of handling. If in a workshop, the workers need to busy carrying workpieces, and have many workers need to use at the same time, can be considered in each station device on a cantilever crane, so you don't need to invest large driving, and can greatly improve the work efficiency of the whole factory.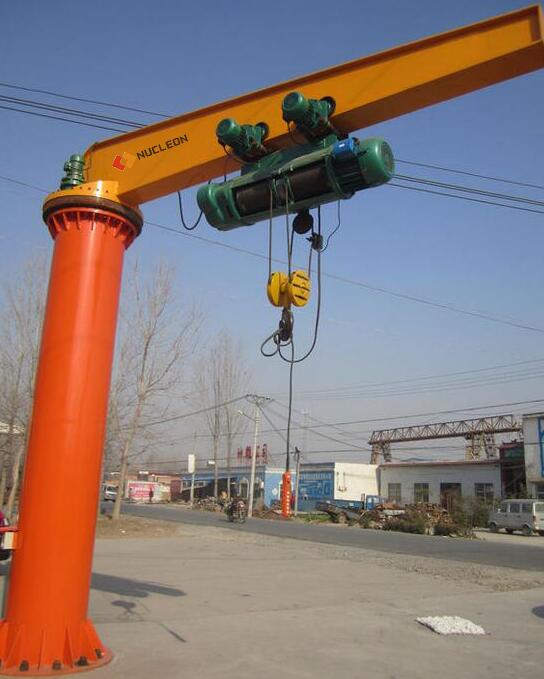 Accurate positioning and easy operation. Whatever you choose, can be very good to meet customer requirements, simple operation, accurate positioning. All design accord with human body engineering design, starting from the operation and the needs of customers, to provide customers the best crane.
High cost performance. All parts are series products, high degree of standardization, quality is reliable, stable performance. By offering professional consulting and design to you, we guarantee that you will get the best solution and service.