HOME »
Case
»
electric hoist hook
electric hoist hook
Introduction of electric hoist drum device and hook pulley device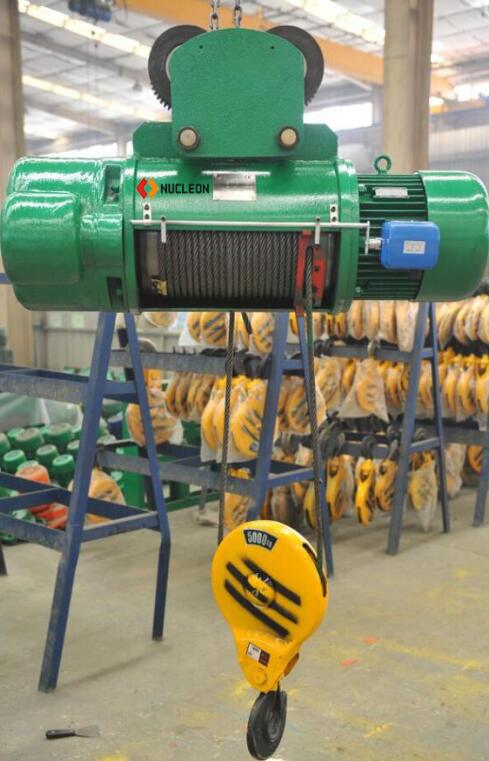 CD1 or MD1 type electric hoist drum device is composed of reel shell, reel and guide rope three parts. The reel housing is connected to the hoisting motor (or two-speed motor) and the reducer by means of double-headed bolts.
The roll surface is made of spiral groove, and the wire rope is single-layer wound on the reel. For the high rise of the use of high-quality cast iron reel; lifting height of 12m when the drum with a roll or made of seamless steel pipe.
The guide rope is mounted on the reel, which is to ensure that the wire rope is neatly arranged on the reel to avoid the indispensable parts of the rope. It with the lifting limit with the action, to ensure the end of the trip safety limit.
The guide string is generally made of a ring, and its construction is shown in Figure 5-6. It consists of guide rope nut, steel belt, pressure rope spring and so on. The rope spring is placed in the rectangular cross-section groove of the inner wall of the guide rope and is tightened on the wire rope of the reel. When the spool is rotated, the buckle spring rotates together with the spool in the slot and moves axially with the non-rotating guide leg nut. Therefore, regardless of the position where the rope is moved axially, the rope spring is always Tighten the wire rope in the second lap. Even in the hook landing or other reasons to make the rope without tension, and lead to a rope at the rope around the rope relaxation, the rope spring is still tightening the second lap rope, to prevent the rope to continue to release, so as not to rope, Improve the reliability of the guide rope.
CD1 type and MD1 electric hoist hook pulley group in addition to 10t with double pulley group, the other (0.5-5t) are used single pulley group. Hook commonly used "T" shaped forging single hook. It is suspended through the rolling bearing on the hook beam, so it can be flexible rotation.