HOME »
Case
»
Shipyard Gantry Crane
Shipyard Gantry Crane
Main technical characteristics of MG Shipyard Gantry Crane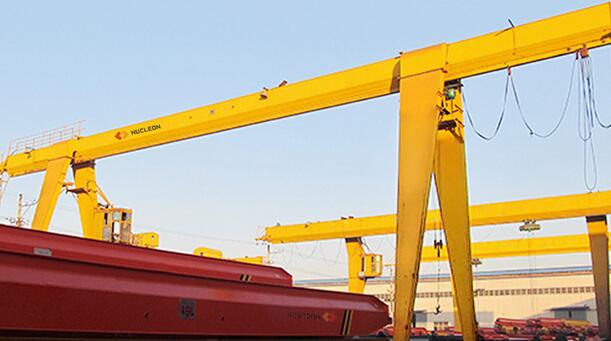 MG Shipyard Gantry Crane is a large weight, large span, multi-function, high efficiency gantry crane, dedicated to the dock (or platform) for large hull segmentation transport, docking and flip operations.
Main technical features:
1, with a single hanging, lift hanging, the air level of micro-turn and other functions.
2, the door has a single main beam type and double main beam type for the two users to choose, for the rational use of materials, the main beam using variable cross-section optimization design.
3, mast rigid legs have a single main and double column for the user to choose.
4, on the car with double main hook, were placed on the outer side of the main beam, but can be moved individually or simultaneously 0-2m.
5, under the car with the main, vice two hooks, placed in the main beam below the center.
6, up and down the car can cross each other operations
7, all hoisting mechanism and operating agencies are using frequency control.
8, rigid legs side, the main beam on the top of the transfer arm maintenance crane to complete the next car under the maintenance work.
9, to facilitate the driver and maintenance personnel on the machine, rigid legs with boarding elevator.
10, in order to prevent the storm attack, with a safe and reliable clip rail, ground anchor, anchor and other windproof devices.