HOME »
Case
»
Quay Gantry Crane
Quay Gantry Crane
Causes of automatic slipping of hook in Quay Gantry Crane operation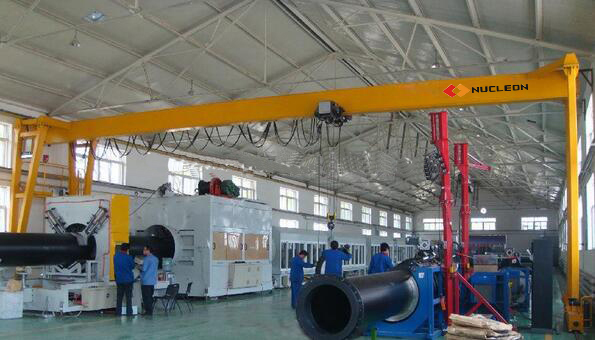 Quay Gantry Crane hook automatically decline fault in the operation, through the analysis of the hydraulic system, fault point should be between the bridge control handle to the winding the reversing valve.
First dismantling the cab control handle pilot control circuit, to observe the oil flow. When the handle is in the position control of the pipeline without oil flow down the hook, Indicates the handle control: no problem. Then overhaul winding reversing valve, found that the main valve core within a self-locking spring break, The hook is automatically reduced due to self-locking failure, but the Quay Gantry Crane is normal after testing. But then appear automatic engine flameout phenomenon, hook down at the same time shaking, and the engine cannot be started after automatically shut down. After the cutter is cut off, it starts normally and cannot start after putting on the power take-off device.
Analysis of hydraulic, found that the spare valve, though not connect with any tubing, but Quay Gantry Crane hydraulic pump output of oil will flow through the spare valve.
If the spare valve core movement, the oil flow will impact winding reversing valve, lead to hook trembling. Because the valve core without spring cannot automatically return at the same time, which resulted in increased load, the engine power is insufficient, can't even start.
The equipment after using in the valve spring, fault disappear. The Quay Gantry Crane troubleshooting process show that spring in the spare valve is also useful, must not easily removed.