HOME »
Case
»
Gantry Hoist System
Gantry Hoist System
The maintenance of the Gantry Hoist System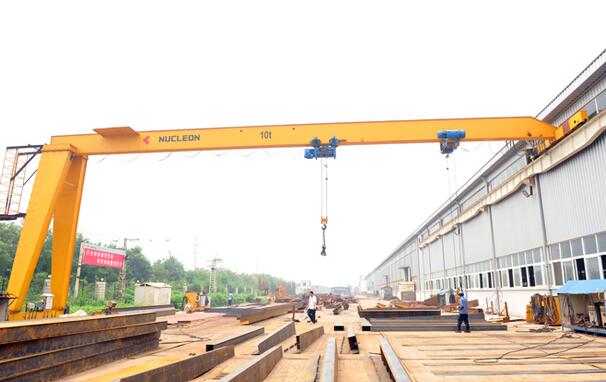 Gantry Hoist System maintenance should have mature process system including (daily inspection, weekly inspection and monthly inspection, annual inspection), etc
Daily inspection: generally by the Gantry Hoist System operator is responsible for the maintenance, the main content of clean sanitation, lubrication transmission parts, adjust and tighten. By testing the sensitivity and reliability of the safety device, monitoring whether there is abnormal sound in operation.
Weekly inspection: jointly executed by technicians and operators, except for daily inspection items. The main content is the appearance inspection, check the hook, extraction device, wire rope, such as the use of safety state, brake, clutch, emergency alarm device sensitive, reliable, By running the driving part presence of abnormal noise, and the phenomenon of overheating.
Monthly inspection: the inspection equipment safety management organization, with the use department relevant personnel to carry out. In addition to the weekly inspection content, mainly for the dynamic system of hoisting machinery, hoisting mechanism, slewing mechanism, operation mechanism, hydraulic system test status. Replacement of wear, deformation, cracks, corrosion parts, electrical control system, inspection feeding device, controller, overload protection, safety protection device whether reliable. Through the test operation check the lifting machinery leakage, pressure, temperature, vibration, noise and other causes of the symptoms of failure. By the observation of the Gantry Hoist System structure, bearing state of subjective tests, transmission parts, understand master Gantry Hoist System technology status, check to make sure the anomaly source of trouble.
Inspection: led by the unit equipment safety management department plays a leading role, with the relevant departments jointly, except the monthly inspection items, mainly on the hoisting machinery technical parameter detection. Reliability test, through testing instrument, the hoisting machinery, the working mechanism motion parts wear, weld metal structure, test, inspection, through the safety devices and parts of the test, evaluate the hoisting equipment running status. Arrange repair, alteration, update plan.
Daily inspection, weekly inspection, monthly inspection and annual inspection can be made into maintenance records. Daily maintenance is completed by operator. Technicians sign and confirm, week, month and year maintenance are completed by technician and confirm by workshop director.