HOME »
Case
»
Parts Of A Bridge Crane
Parts Of A Bridge Crane
The Main Parts Of A Bridge Crane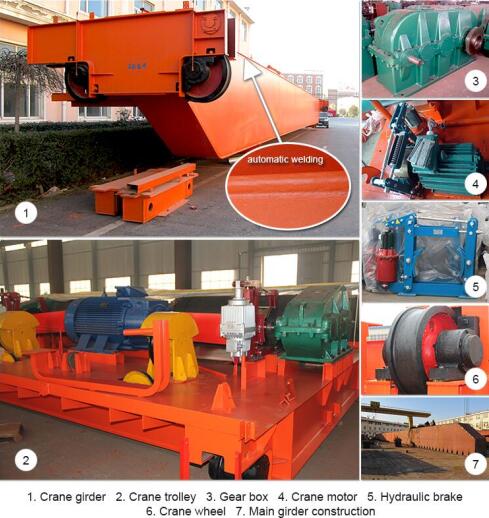 Bridge crane is mainly used in steel, metallurgy and building materials industry, complete the production in the process of hoisting and installation, etc  The crane for the workshop was one of the first type of crane.
Bridge crane is mainly composed of machinery, metal structure and electrical three parts. The mechanical part refers to lifting, running, amplitude and rotation, and lifting organization. The metal structure is the body of the hoisting machinery, the organization of the equipment and the main part of the supporting component. Electric is the power of lifting mechanical action, the composition of each organization is driving alone the first metal structure of bridge crane parts. The transverse frame in the workshop on both sides of the crane beam trajectory, and along the track before and after the operation. In addition to the bridge, there is a trolley, the trolley is equipped with lifting organization and operation organization, with the lifting of the object along the track of the bridge.
So the bridge crane in the trolley before and after the operation and running along the bridge and the lifting action of a rising organization. A three-dimensional space scale three is useful for space bridge crane lifting goods. Generally speaking, there are three organizations: lifting Organization (two large lifting components), trolley running organization and cart running organization. It also includes railings, cab and so on.