HOME »
Case
»
purchase bridge crane
purchase bridge crane
How to purchase bridge crane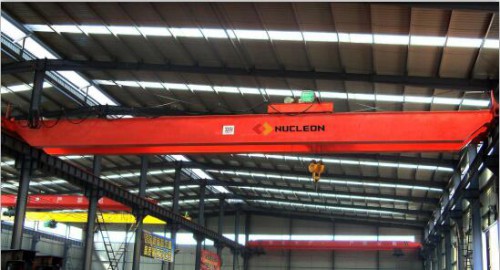 The bridge crane is mainly composed of a bridge, a cart, a trolley running mechanism, a lifting mechanism and other accessories. Usually the main beam is erected on the bridge, and the main beam is laid on the running rail of the trolley. Bridge crane can be achieved before and after the left and right movement, a wide range of operating space.
Choose
Construction units in the purchase should be combined with the specific circumstances of the construction, Should consider using maximum lifting weight range, work intensity, utilization, and other technical parameters, Ultimately choose to suit this enterprise construction requirements of working level Specification and type of bridge crane.
2.After the completion of the technical parameters of the construction unit, The need for market research, and evaluate the strength of the manufacturer and the product performance, quality, etc
After the delivery of the selected product payment, manufacturers door-to-door. At this time the construction unit should be out of the box inspection, to see whether the technical data are complete, whether the spare parts and the list of the same, whether there is damage, defects, and make a detailed record.
The installation. Bridge crane is a kind of special equipment, Higher requirements for installation of equipment. Construction units must choose to have the installation qualification of the installation team, In addition to the selection of the installation unit should be approved by the national technical supervision departments and obtain qualification. Installation team should be strictly in accordance with the technical requirements of safety construction, Eliminate any hidden safety risks.
After the installation of the equipment, Need to pass to supervise installation acceptance, And declare special equipment inspection institutions for installation acceptance, Can be put into use in the end.