HOME »
Case
»
Parts Of A Gantry Crane
Parts Of A Gantry Crane
Won Praise Parts Of A Gantry Crane
Product Introduction
      MH type single girder gantry crane is used together with CD1/MD1 Model Electric hoists .It is a track travelling small and medium-sized crane. Its proper lifting weight is 3.2 to 32 tons, proper span is 12 to 30 meters. Its proper working temperature is -20°c to 40°c. This product is a regular crane widely used at open ground and warehouses to load and unload or grab materials. It has 2 controlling methods, namely ground , controlling and room controlling.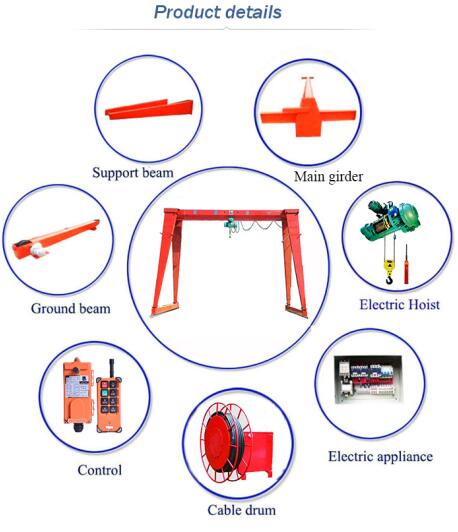 Main Features 
1) Reasonable structure
2) Favorable performance
3) Smooth starting and stopping
4) Safe and reliable traveling
5) Low noise, commodious cabin and good view
6) Convenient maintenance, excellent exchangeability for parts and computers
7) Saves electricity specifications
We have components supplier from all over the world. Such as  ABB, SEW-EURODRIVE, SIEMENS, SCHNEIDER and so on. You can choose any brand to equipment your cranes. Also, we have many kinds of crane spreader for your choice.