HOME »
Case
»
Overhead Bridge Crane Design
Overhead Bridge Crane Design
Brife description of Overhead Bridge Crane Design
Lifting Weight: 2t-10t
Span: 7.5m-31.5m or other
Lifting Height: 6m-24m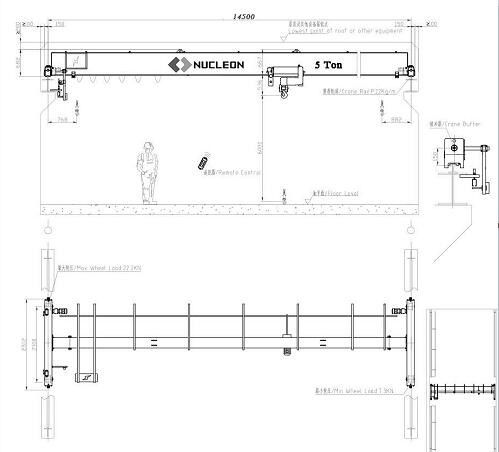 Features Overhead Bridge Crane Design:
1.10t Overhead Crane is for lifting 5t~10t stuff;
2.It has beautiful box-typed welded main girders. Computer optimized design for main girders with good performance and light weight;
3.Compact structure, light weight and high lifting height;
4.The Max. span reaches 40 meters;
3.It's widely used in workshops, metallurgy, warehouses and assembly shops etc.
European Style Overhead Bridge Crane Design Main Features
1.Design and fabricate according to FEM/DIN standard
2.Light duty & modular design
3.Advanced fabricated technology
4.High security
5.High reliability
6.Low-energy and maintenance-free
7.Intelligentialize
1.Single main girders, box-type shaped by wielding;
2. High quality carbon steel Q235B and Q345B;
3. Double girder connected by high strength screws;
4. Welding seams are tested by X-ray and ultrasound;
5. Forged wheels;
6. Compact structure, small volume and light weight trolley;
7. Lifting mechanism is open type winch trolley;
8. Compact reducer motor drive, step less control, hardened gears and safety disc brake;
9. Good operation performance, step less speed regulating and running smoothly;
10. Main girders Shot blasting sa2.5 after welding to release internal stresses;
11. Painting high quality epoxy zinc-rich primer, and the thickness of oil film is 140μm;
Electric System Overhead Bridge Crane Design:
1. Power supply through step less slide lines;
2. Lifting mechanisms and traveling mechanisms are mutually independent and could travel at the same time;
3. Control panel protection degree is IP54;
4. Reasonable components installation, convenient for check and maintenance;
5. Electric cable is suspended in cable saddle, stationary cable trolley which slides on a galvanized C-type steel;
Safety Protection Devices Overhead Bridge Crane Design:
Overload limiter, limit switch (lifting and traveling), interlocking protection devices, buffer, track sweep plate, shield, bus bar protection board, anti-collision device, main disconnecting switch, emergency stop system and motor overload protection.
Nucleon Crane Group is china famous Single girder Overhead Crane Manufacturer and double girder Overhead Crane Manufacturer.
See more:http://www.nucleoncranegroup.com
http://www.nucleonoverheadcrane.com
Email:info@nucleoncranegroup.com
If you have any questions, Please don't hesitate to contact me.