HOME »
Case
»
The application of Overhead Jib Crane
The application of Overhead Jib Crane
The application of Overhead Jib Crane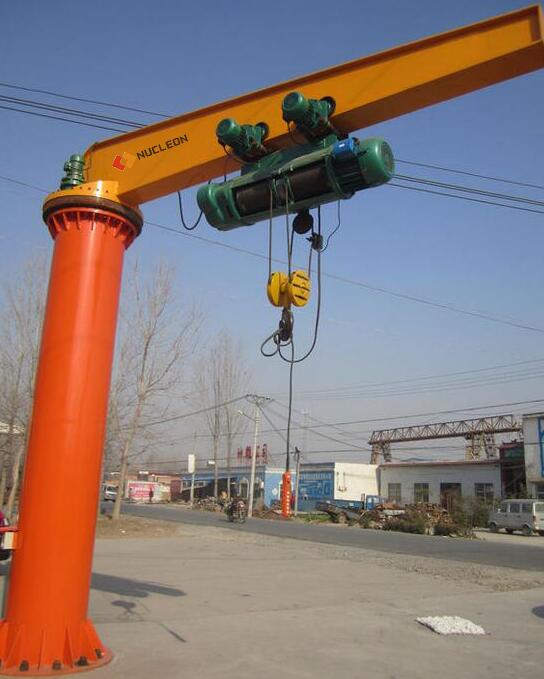 BZD fixed column Overhead Jib Crane is a lifting machine used with CD and MD electric hoist, It consists of a column, a swivel arm, a swivel arm drive and an electric hoist. The lower base of the column is fixed on the concrete foundation through the anchor bolts. The motor drives the reducer to turn the cantilever, The electric hoist runs back and forth on the dangling I-beam.
The BZD type spiral arm crane has the characteristics of simple structure, convenient operation, small occupancy space, large operation range and so on. Widely used in the production lines of modern industries such as mechanical manufacturing, automobile, shipbuilding, pipeline, assembly line and warehouse, wharf, laboratory and other occasions of material transfer operations. Ideal lifting equipment for improving working conditions.
BZ type Overhead Jib Crane belongs to intermediate duty, according to the job needs to choose different types of cranes, this machine has two kinds of operation forms: electric rotary and rotary manually.
Our main products are engineering equipment, including overhead crane, gantry crane, foundry crane, electric hoist and winch, etc. Nucleon Crane Group has transformed to a mature manufacturer with advanced technology.
See more:http://www.nucleoncranegroup.com
http://www.nucleonoverheadcrane.com
Email:info@nucleoncranegroup.com
If you have any questions, Please don't hesitate to contact me!!