HOME »
Case
»
Overhead Crane Radio Remote Control
Overhead Crane Radio Remote Control
NLH Double Girder Overhead Crane Radio Remote Control
overhead traveling crane radio remote control is a kind of new generation crane with intelligent feature. The lifting mechanism is European style ND steel wire rope electric hoist . The lifting speed is double. And Cross & long traveling use infinitely variable frequency motor which make the crane travel smoothly. The crane design is based on FEM,DIN, ISO standard, which is extremely safe, ergonomic, convenient, and efficient for material transport. Its compact size structure could save lots of space.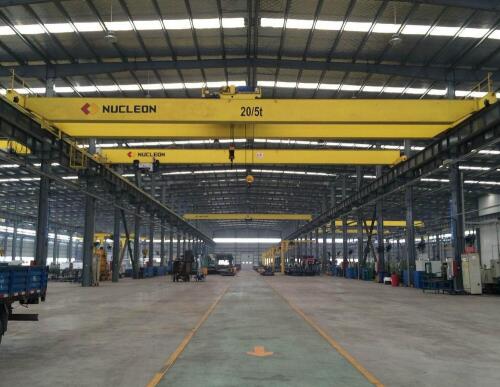 What is the advantage of your the Overhead Crane Radio Remote Control?
The small wheel pressure and small volume can reduce the investment in the preliminary works such as the factory building.
Using high-quality components can reduce failure rate and maintenance costs.
Low consumption of total power can reduce the costs, it had remake able energy-saving effect.
Variable Frequency control make cranes run smoothly.
Standardize the whole crane configuration to make the whole machine more stable.
Real-time security monitoring while crane running.
The networking and automation of electric part, such as HIM human-computer interface, remote management of internet of things, electronic anti-shake function and automatic correction function and ect.
What is the main structure of the Overhead Crane Radio Remote Control?
Main beam and end beam
ND steel wire rope electric hoist
Crane traveling mechanism
Trolley traveling mechanism
Hook
Electrical equipment
hat is the configuration of the Overhead Crane Radio Remote Control?
lifting motors(ABM)
traveling motors ABB, Siemens, SEW (Three-in-one type)
Electrics are Schneider,
SKF bearings
What is the safety feature of Overhead Crane Radio Remote Control s?
weight overload protection device
Top quality durable polyurethance buffer
Crane traveling limit switch
Low voltage protection function
Emergency stop system
Current overload protection function
Warning lights
Weight overload protection device