HOME »
Case
»
overhead crane electrical
overhead crane electrical
Emergency measures for protection of overhead crane electrical system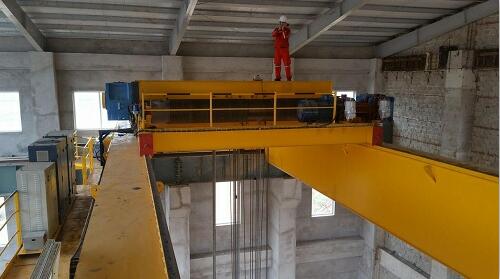 Overhead crane electrical system protection is mainly in the following areas:
Emergency power switch: Overhead crane equipment must be equipped with power supply emergency switch, the driver should be able to touch the place. In the event of an emergency, you can quickly turn off the switch.
Zero protection: the electrical control system of the overhead crane equipment is mainly to prevent the controller's handle from zero, Overhead crane power supply in the event of loss of pressure can be quickly restored after the power supply, and also cause the motor to start the accident, so the international equipment must be set to zero protection.
Short circuit protection and voltage loss protection: The insulation of the electrical equipment is damaged, When the case occurs or the phase is short-circuited, the total power short-circuit protection of the device can be run quickly. This can be a good cut off the power supply to avoid accidents.
Safety interlock protection: The electrical control system of overhead crane equipment is an interlock switch which needs a passage, It is used to disconnect the total power when the channel is open. The equipment of the car is generally used bare line power supply, so that it can be very good to prevent the staff boarded the electric shock, but also can effectively prevent the lifting of the abnormal, to avoid accidents.
Main isolating switch: In the use of overhead crane electrical control system needs regular maintenance checks, and in the maintenance of the time must be in power off condition. So there is a need for isolation between the electrical equipment and the power supply grid. In this way, it can avoid the friction and other faults in the operation. Affect the overall operating conditions.