HOME »
Case
»
LDA 20t overhead crane Industrial Cranes Manufacturer
LDA 20t overhead crane Industrial Cranes Manufacturer
LDA 20t overhead crane Industrial Cranes Manufacturer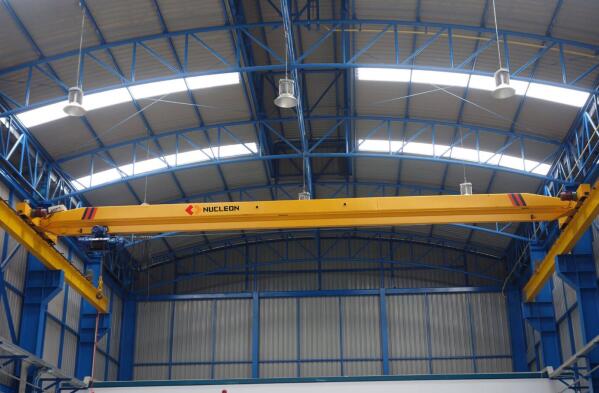 Features Industrial Cranes Manufacturer:
1.it is used for lifting 1t~20t stuff;
2.It has beautiful box-typed welded main girders. Computer optimized design for main girders with good performance and light weight;
3.Compact structure, light weight and high lifting height;
4.The Max. span reaches 32 meters;
5.It's widely used in workshops, metallurgy, warehouses and assembly shops etc.
Mechanism Industrial Cranes Manufacturer:
1. box-type shaped by wielding;
2. High quality carbon steel Q235B and Q345B;
3. the girder connected by high strength screws;
4. Welding seams are tested by X-ray and ultrasound;
5. Forged wheels;
6. Compact structure, small volume and light weight trolley;
7. Lifting mechanism is open type winch trolley;
8. Compact reducer motor drive, step less control, hardened gears and safety disc brake;
9. Good operation performance, step less speed regulating and running smoothly;
10. Main girders Shot blasting sa2.5 after welding to release internal stresses;
11. Painting high quality epoxy zinc-rich primer, and the thickness of oil film is 140μm;
Electric System Industrial Cranes Manufacturer:
1. Power supply through step less slide lines;
2. Lifting mechanisms and traveling mechanisms are mutually independent and could travel at the same time;
3. Control panel protection degree is IP54;
4. Reasonable components installation, convenient for check and maintenance;
5. Electric cable is suspended in cable saddle, stationary cable trolley which slides on a galvanized C-type steel;
Safety Protection Devices Industrial Cranes Manufacturer:
Overload limiter, limit switch (lifting and traveling), interlocking protection devices, buffer, track sweep plate, shield, bus bar protection board, anti-collision device, main disconnecting switch, emergency stop system and motor overload protection.