HOME »
Case
»
Philippines Order 2 Ton Bridge Crane
Philippines Order 2 Ton Bridge Crane
Philippines Order 2 Ton Bridge Crane
On May 18, 2018, Philippines old customer ordered two set of LD Type 2 Ton Bridge Crane (LD2t-18m H=8m A3 2 sets) for new workshop. According to this situation we designed a trolley with stroke limit for our customer, also added heating and dehumidification devices for electric motors and electric control cabinets.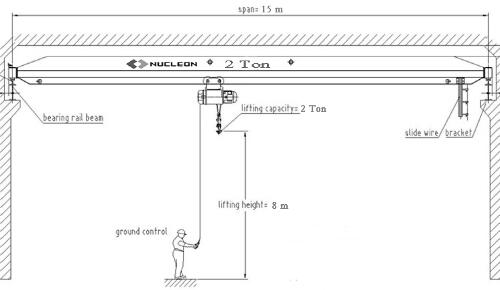 The customer has placed orders with Nucleon Crane Group several times continuously. It is precisely because of the quality of our products and reasonable prices that make them satisfied, which led to multiple collaborations.
New orders from old customers, and each cooperation is a symbol of friendship.
1 ton to 20 ton LD model Single Girder Bridge Crane:
LD model single girder bridge crane is has one main beam only.
This bridge crane is characterized by more reasonable structure and higher strength steel as a whole, the main beam and end carriage are made by U-section steel plate.
This bridge crane is used together with CD1/MD1 model or HC/HM model wire rope electric hoist as a complete set, the electric hoist is travelling under crane beam.
This bridge crane is medium duty class overhead crane, the capacity from 1ton to 20 tons. The span from 7.5m to 35m, the duty grade is A3-A4. Working temperature within -20 to +42 centigrade.
This bridge crane is widely used in plants, warehouses, material stocks to lift goods. It is prohibited to use the equipment in the combustible, explosive to corrosives environment.