HOME »
Case
»
MH Model Loading Gantry Crane System
MH Model Loading Gantry Crane System
MH Model Loading Gantry Crane System
In general
>> Optimized designing, DIN/FEM standard, smaller wheel load, space saving
>> Max. Safe working load 80t
>> Flexible solution for all lifting needs
>> Excellent driving properties, stepless control, smoothly moving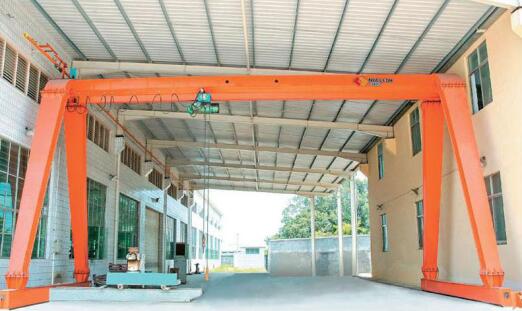 Mechanical feature
>> Double welding box girder, DIN/FEM standard deflection
>> Material Fe37 or Fe52
>> Whole length CNC cutting for complete web plate, high deflection accuracy
>> Trolley rail is high strength flat steel bar (hot rolled ,16Mn)
>> High quality automatic welding and NDT inspection
>> Shot-blasting Sa2.5 for complete girder after welding, stress release
>> Epoxy zinc rich high quality painting, 2×2 with 140μm
>> Class 10.9 High tension bolts mounting between girder and legs, life time safety connection
>> Compacted gear motor driving, stepless control, harden gear, safety disc brake
>> High protection class IP55, F class, 40% ED
>> Double flanged or flat wheels, anti-friction bearings, cellular buffers, derailment protectors
>> Full-length service platform along the crane bridge is supplied, where it is equipped with protective hand railing and toe strips.
Electrification and outfitting
>> Safe slide wire
>> Conductor power supply
>> Phase control guard opens the main contactor in case of phase failure
>> All hoist and crane movements are independent and can be run simultaneously.
>> Contactors meet crane applications, rated for severe vibration.
>> The control panels are finished to withstand corrosion, IP55
>> Heavy duty plug head
>> The components are positioned in a maintenance friendly way, and the whole layout provides good protection against accidental contact.
>> The multi-wire type fixed cables with plastic insulation are intended for crane usage.
>> Cables are coded either with numbers, colors or tags for easy identification.
>> The flat cables used for festoons are PVC insulated flexible flat cables rated for 450/750V, specially designed for cranes, hoists.
>> Festoon cables are suspended on cable saddles, fixed to cable trolleys, running in a galvanised C-track, which is connected to the main girder with bolted or welded support brackets.
Standard hoist
>> First class lifting units, maintenance free
>> Safe working load 0.5t – 80t
>> DIN/FEM/ISO standard, lightweight construction
>> Silent operation
>> Lower hoist frame, building cost saving
>> Modern design of motor, fan, gear, drum, brake combined with construction of the hoist
>> Optimum cooling, cooling improved up 30%, cut off 170°C as standard
>> Ambient temperature -10℃ – +40℃
>> Painted with 140μm epoxy paint for maximum resistance against climatic conditions, extending the hoist's working life
Safety protection
>> Gear motor locker rope to protect drop
>> Rain cover for outside hoist, driving units, electrical cubicle
>> Warning indicator: flashing lights and warning sound
>> Wireless infra-detector for anti-collusion
Control Mode
>> Pendant
-Easy control, no additional driver necessary
-Two steps push button, with emergency stop
-Independent festoon station or fixed suspended under hoist
-Protection class IP65
-Life time 500,000
>> Remote Control
-Easy control, no additional driver, remote access
-Flexible frequency selection, total reliable
-Two steps push button or joy stick station with emergency stop
-Protection class IP65
-Life time 500,000
>> Cabin Control
-Space capsule cabin
-Easy operation
-Professional chairs, adjustable and fully turning
-Round window, big view
-Two steps push button or joy stick station with emergency stop