HOME »
Case
»
Gantry Mobile
Gantry Mobile
China Nucleon Crane Gantry Mobile
In every demanding Industrial Sector across China,  Experienced Team of China Nucleon Crane offers  Customised  Lifting Solutions designed to improve  Performance,  Reliability and  Safety in every part of your  Lifting Operations!
10 ton box type hydraulic double girder trolley crane Gantry Mobile are a type of crane built atop a gantry, which is a structure used to straddle an object or workspace.
10 ton box type hydraulic double girder trolley gantry crane Gantry Mobile can be operated from the ground via cable-connected control pendant, radio remote control or from an operator's cabin.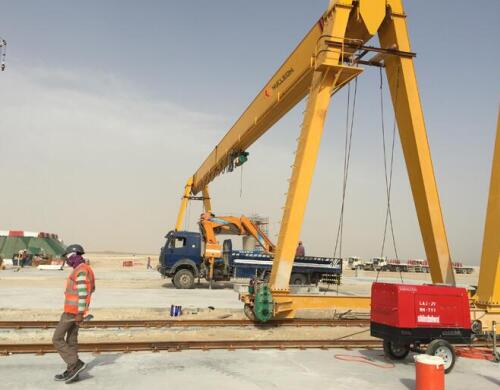 In addition, multiple controls are possible by switching control from one mode to another.
The system allows operation of the crane in a manual, semi-automated or fully automated mode.
Further confusing the issue is that gantry cranes Gantry Mobile may also incorporate a movable beam-mounted hoist in addition to the entire structure being wheeled, and some overhead cranes are suspended from a freestanding gantry.
Give us your hands to lift your world!
See more:http://www.nucleoncranegroup.com
http://www.nucleonoverheadcrane.com
Email:info@nucleoncranegroup.com
If you have any questions, Please don't hesitate to contact me.