HOME »
Case
»
The operation rules of Gantry Crane Hoist
The operation rules of Gantry Crane Hoist
The operation rules of Gantry Crane Hoist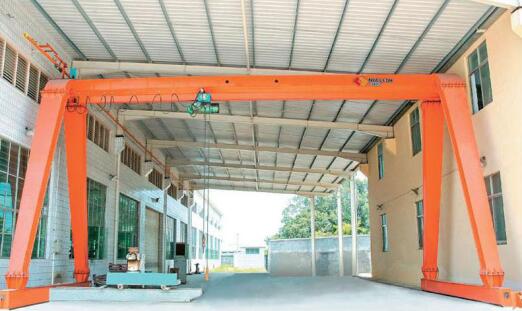 Before use the Gantry Crane Hoist should check the mechanical and electrical parts of the equipment, wire rope, hooks, limiter should be in good condition, electrical part should be no leakage, grounding device should be good.
When the operation begins with the first lifting of a heavy object, it should be stopped when the load is removed from the ground 100mm. Check the brake condition of electric Gantry Crane Hoist and confirm that it is in good condition before it can be operated formally. When working in the open air, it should be protected against rain shed.
The sliding displacement of electric Gantry Crane Hoist should not be more than 80mm. otherwise, the oil stain should be removed or the brake ring should be replaced. The electric Gantry Crane Hoist shall be provided with a buffer , and the two ends of the rail shall be provided with baffle plates.
Lifting items should be bound firmly. When moving with electric Gantry Crane Hoist, the weight should not be more than 1.5 m high. Heavy objects shall not be suspended in the air at intervals.
In Gantry Crane Hoisting, when the weight falls out of control due to failure, emergency measures must be taken to drop the load to nobody.
If abnormal smell or high temperature occurs in electric Gantry Crane Hoist operation, it should be stopped immediately to check if it can continue to be used after troubleshooting. Using suspension cable electrical control switch, insulation should be good, should slide freely. There should be 2m open space behind the man's standing position and the button should be operated correctly.
Nucleon Crane Group is a crane manufacturer with well equipped testing equipment and strong technical force. Due to wide range products, good quality, reasonable prices, considerable services and stylish designs, our company has become one of the most competitive crane manufacture for enterprises among crane industry.
Our main products are engineering equipment, including overhead crane, gantry crane, foundry crane, electric hoist and winch, etc. Nucleon Crane Group has transformed to a mature manufacturer with advanced technology.
See more:http://www.nucleoncranegroup.com
http://www.nucleonoverheadcrane.com
Email:info@nucleoncranegroup.com
If you have any questions, Please don't hesitate to contact me!!