HOME »
Case
»
Floor Mounted Jib Crane
Floor Mounted Jib Crane
Floor Mounted Jib Crane Feature Description
The Floor Mounted Jib Crane is designed for heavy lifting, lifting weight up to 10 ton, also can design according to user requirement, the cantilever can rotate 360 degrees, operate freely in the three-dimensional space, widely used indoors or outdoors production lines, warehouse areas, general workshop, assembling line, dock, etc.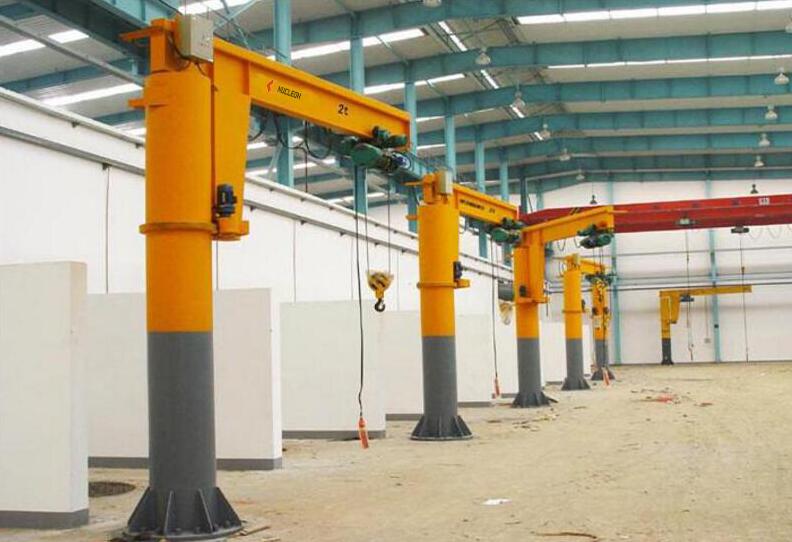 The Floor Mounted Jib Crane is developed in recent years, it is a small and medium-size lifting equipment, simple structure, safe, reliable, high efficiency, operate convenience, turning agile, wide working conditions, energy-saving, time-saving, labor-saving, self- standing, manual or electric control, more heavy weight and working radius.
Floor Mounted Jib Crane Advantage
Good quality with competitive price
Reasonable structure, favorable performance
Control the load easily and position the load exactly
Smooth starting and stopping
Superior safety and reliability
Low noise, commodious cabin and good view
Low dead weight low your cost
Easy maintenance for parts
Floor Mounted Jib Crane Component Detail
* German import ABM hoisting motor, compact sizes and running smoothly
* Aluminum gearbox, good heat dissipation, long lifetime
* Frequency conversion control, low-noise design, staring and braking balance, low impact
* Hoist motor, gearbox and brake three in one large lifting torque, small size, smooth running, low impact, low noise, high efficiency, asbestos-free in brake disc, long life time, IP65
* Advanced processing methods to ensure drum concentricity
Nucleon Crane Group is china famous Single girder Overhead Crane Manufacturer and double girder Overhead Crane Manufacturer.
See more:http://www.nucleoncranegroup.com
http://www.nucleonoverheadcrane.com
Email:info@nucleoncranegroup.com
If you have any questions, Please don't hesitate to contact me.