HOME »
Case
»
Gantry Crane Manufacturers In China
Gantry Crane Manufacturers In China
Gantry Crane Manufacturers In China
Nucleon Crane Group founded in 2005, is famous Gantry Crane Manufacturers In China, the registered capital of 270,000,000 CNY, covers an area of 450000 square meters, staff 1700 people.
A type double girder gantry crane with hook cap application: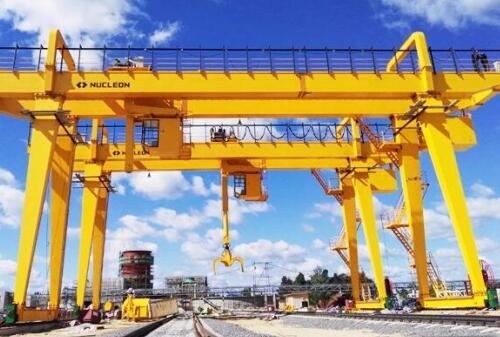 A type double girder gantry cranes applicable for enterprises, railway station, ports, warehouses and supplier freight yard, handling and lifting between the fixed span in a variety of material.
Double-girder hook gantry cranes are suitable for general loading and unloading and lifting operations along open-air warehouses or along railway lines.
2. The  double girder gantry crane consists of bridges, carts, trolleys, and electrical equipment.
3. The bridge adopts the box-shaped welding structure, and the cart driving mechanism adopts separate driving. The three-in-one speed reducer is used for the large and small car operating mechanism, which is convenient for maintenance.
4. All kinds of safety measures such as strong wind alarm, breaking shaft, anti-rollover and so on are complete.
5, all institutions are maneuvering in the control room. Crane conductive form is divided into two kinds of cables and trolley wire, one of the ordering.
6. The order specification form must be filled out when selecting this crane. The minimum temperature and maximum temperature of the working environment and the power supply must be indicated when using the crane.
Nucleon Overhead Crane is whole-owned subsidiary of Nucleon Crane Group, which is Gantry Crane Manufacturers In China, main product: Overhead Crane, Gantry Crane, Electric Hoist and Winch.
Nucleon Crane Group is china famous Single girder Gantry Crane Manufacturers In China and Double girder Gantry Crane Manufacturers In China.
See more:http://www.nucleoncranegroup.com
http://www.nucleonoverheadcrane.com
Email:info@nucleoncranegroup.com
If you have any questions, Please don't hesitate to contact me.