HOME »
Case
»
Electric Overhead Crane
Electric Overhead Crane
Selection Principle of Electric Equipment for General Overhead Crane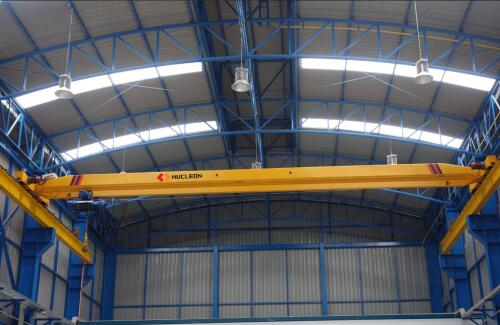 (1) Often used AC drive control system, in the use of frequent or poor operating conditions, it is appropriate to use AC drive DC control system.
(2) should adopt the standard Overhead Crane electrical control equipment. Such as special needs, can also be designed by the manufacturer, but must comply with the relevant provisions of 083811 and JB4315.
(3) In addition to the auxiliary mechanism, should be used in line with ZBK26008 and ZBK26007 balance of the lifting and metallurgical motor, if necessary, can also be used in line with the requirements of other types of Overhead Cranes engine.
(4) Overhead Crane complete sets of resistors should adopt standard products, if any special requirements, but also by the manufacturer to design, but must meet the requirements of GB3811 5.3.
(5) control equipment should be used linkage console or vertical controller, if necessary, can also be used button control.
(6) other electrical equipment and the original should be used for Overhead Cranes or to meet the requirements of the Overhead Crane products.
(7) electrical ancillary products to have a production license or model of use and product certification. New products should have technical conditions, type of experimental report (by the product focal point or its accredited test center to provide qualified and effective test report and a complete identification of documents.