HOME »
Case
»
Column Rotation Jib Crane
Column Rotation Jib Crane
Nucleon Column Rotation Jib Crane
Column Rotation Jib Crane is a small lifting equipment developed in recent years. Rated lifting capacity is 0.25~10T, its structure is unique, safe and reliable, with high efficiency, saving energy , saving time, saving effort and flexible features. And can take actions randomly in a three dimensional space, especially in short, intensive lifting occasions more shows than any other conventional lifting equipment unique advantages. Widely used in workshops, warehouses, terminals and other fixed places.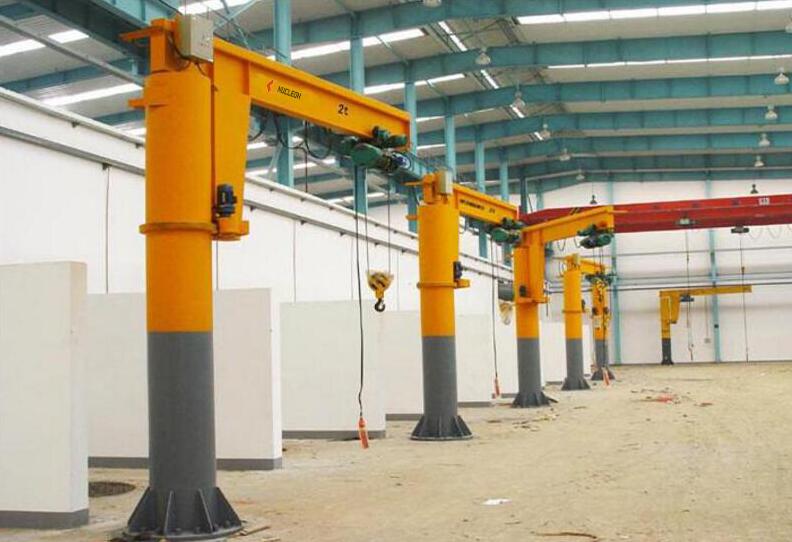 Mechanical Feature of rotation Column Rotation Jib Crane
Material Q235B or Q345B
Rectangular tube legs or welded by superior steel plates
10.9 class High tension bolts mounting between girder and legs
Trinity-drive system or traditional drive by motor and reducer
Smoothly moving, effectively braking, long service life
Choosing according to different needs
Electrical System of Column Rotation Jib Crane
Trolley conductor or angle steel conductor power supply
All hoist and crane movements are independent and can be run simultaneously.
Electric hoist mobile power supply is constituted by flate cables or special cables, galvanized slippery course and small cable pulley
Smoothly moving, beautiful appearance
Choosing according to different needs
Safety Protection of rotation Column Rotation Jib Crane
Rain cover for outside hoist, driving units, electrical cubicle
we mainly manufacture BZD fixed Column Rotation Jib Crane -BX wall jib crane, BB wall jib cranes etc jib cranes.