HOME »
Case
»
CD electric hoist
CD electric hoist
CD electric hoist low price, widely used in warehouses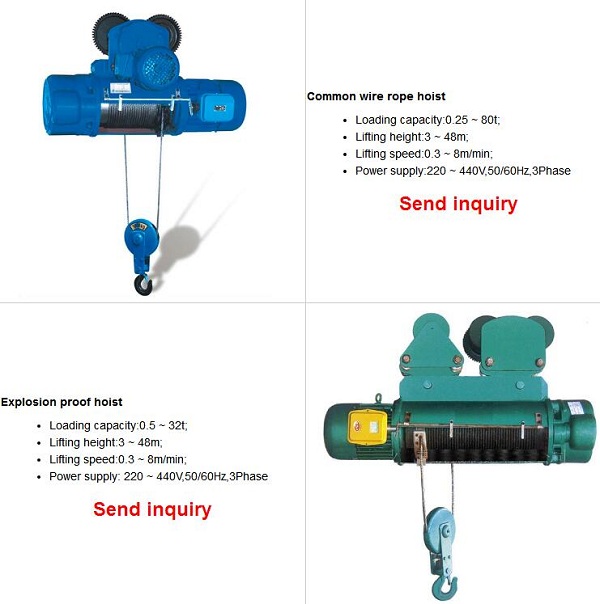 The advantage of the electric hoist made of Nucleon crane group is: easy to operate simple, fast speed, wire rope length can be customized according to customer demand, in order to increase product safety, also set the limit switch, low price, can be widely Used in factory warehouses, logistics, freight and other occasions.
Nucleon wire rope electric hoist with a safe brake device to ensure that the goods in the lifting process of unexpected power failure, can also ensure the safety of lifting material. Electric hoist excellent rope guide to solve the lifting process of swinging items. With the road and electric sports car to meet your needs on different occasions Nucleon imported chain electric hoist all imported from Taiwan and Japan, the products are in accordance with international standards of production, electric chain hoist body with a chain frame to ensure that the chain in the rise And when the chain will not be the case of the chain of cards will not lead to the work of the interruption or cited the situation occurred Nucleon lifting welcome new and old customers to negotiate to buy.
Nucleon lifting electric wire rope hoist mainly CD1 and MD type two. They have different characteristics, CD-type wire rope hoist to enhance speed, up to 8 meters per minute. CD-type electric hoist using high-quality braking system to ensure that even if the power lifting process will not cause security incidents. CD electric hoist with aluminum radiator, heat dissipation is particularly good, it can withstand long hours of high-intensity work, upper and lower limit switch to ensure that the rope does not reverse the situation.
The use of wire rope electric hoist can greatly improve the production efficiency and reduce labor, help to improve the company's costs and improve corporate income.