HOME »
FAQ
»
bridge cranes should be maintained weekly
bridge cranes should be maintained weekly
Single and double beam bridge cranes should be maintained weekly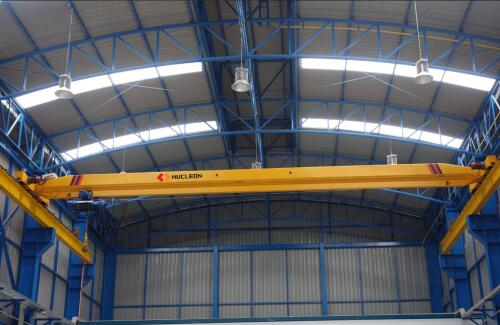 Single girder bridge crane used in the workshop, manufacturers and other indoor occasions. In order to guarantee the normal work of the equipment, do regular maintenance every week, check each part of the crane device whether normal. To observe the bridge crane inspection maintenance system.
A brief introduction to the maintenance of the place:
Check the protection device of crane whether working properly, Limiter, stroke control switch, a buffer is an important device to prevent accidental movement of the crane. If these parts has problem, may lead to serious consequences, so for these devices to focus on examination;
Check the lubrication condition of crane, Reducer, cart, hoisting mechanism and other rotating parts should be inspected timely to add or replace lubricating oil;
Check the wire rope, wire rope diameter whether too small, if there is a broken wire, deformation, Do not accord with standard of use will change in time;
Check whether the crane parts of bolt looseness, hook sling is normal. This time is just a part of single girder bridge crane maintenance. At the time of specific arrangement, it is best to use the form to List every detail clearly, don't leave out any place.