HOME »
News
»
40 Ton Gantry Crane
40 Ton Gantry Crane
Until 17th, Nov. 2017, We have completed the installation work of Pakistan 2 sets 40 Ton  Gantry Crane Installation (MG40t-10+2+2m, H=9m A3) and put into use.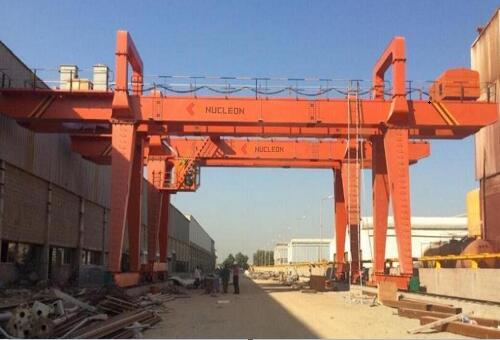 Nucleon Crane Group leaders and engineers went to Pakistan in person and completed the installation, which takes two months. The client is very satisfied with the performance and usage experience of our equipment.
MG model Double Girder Gantry Crane with hooks is applied in outside plant or railway sideways to conduct common lifting and loading unloading works.
This gantry crane is composed of two beams, four support legs, crane travelling systems, trolley and electric equipment. The frame of beams and legs adopts box-type welding mechanism. The crane travelling mechanism adopts separate drive. All mechanisms are operated in the driver's cabin. Power supply of crane adopts cables and sliding wires, select one when ordering.
The MG model Double Girder Gantry Crane is heavy duty type crane, the duty grade is A4/A5, the capacity from 5t to 250t, the span from 12m to 35m, the standard lifting height are 6m, 9m and 12m, the temperature of working environment within -25~+42 degree.
Meanwhile, we can design gantry cranes according to your plant and your demands.  For more details, please contact us via info@nucleoncranegroup.com
To meet the business development of Pakistan, Nucleon crane provides client with a professional solution of loading and stacking containers, improving the production efficiency for customers, and making the production operation more efficient and safer.