HOME »
Case
»
10 Ton Double Girder EOT Crane installation for Philippines
10 Ton Double Girder EOT Crane installation for Philippines
10 Ton Double Girder EOT Crane installation for Philippines Customer
June 12, 2018, our two engineer are installing 10 Ton Double Girder EOT Crane on Philippines Customer workshop.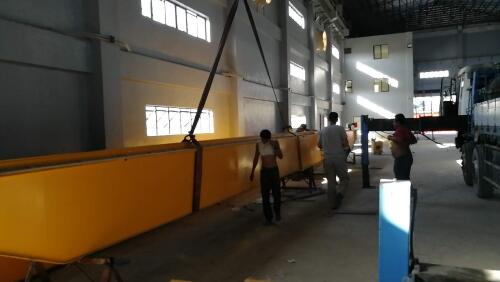 5 ton to 550 ton Double Girder EOT Crane
1. The detailed capcaty of EOT Crane as follows: 5T, 10T, 16/3.2T, 20/5T, 32/5T, 50/10T, 75/20T, 100/20T, 100/30T, 125/30T, 150/30T, 160/32T, 200/50T, 400/80T, 550/250T.
2. The duty class are A5~A7(Heavy duty).
3. The span of bridge crane from 7.5m to 31.5m.
4. The control model: Cabin control or wire less remote control.