HOME »
Case
»
China Top Design Electric Crane Hoist For Sale
China Top Design Electric Crane Hoist For Sale
China Top Design Electric Crane Hoist For Sale
Our Wire-rope Electric Crane hoist is a kind of light-small lifting equipment which is Score No.1 for continuous 30 years and sold well both domestic and abroad.
Application places Electric Crane Hoist:
1,extensively used in factories, workshops, warehouses and many other occasions to hoist materials directly,
2,installed on the straight or curve I-steel beam of Single-girder Cranes to lift goods.
3,It can also be used together with Electric Hoist Double-beam, gantry crane and slewing cranes to hoist different items and so on.
It has so many application usages just for its advantages, such as: tight structure, convenient operation, light weight, wide common use and so on.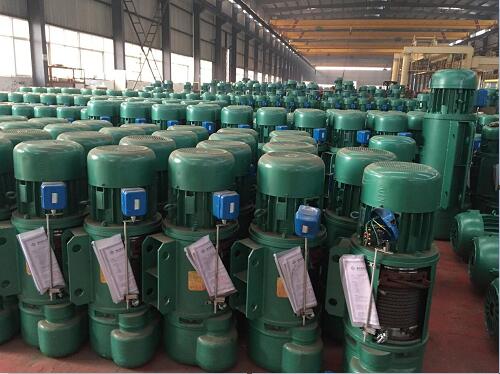 Motor: Electric Crane Hoist Motors are equipped which has safety limiter in both up and down directions. And the motor is Conic rotor brake motor, in order to adapt to the frequent direct start in the intermittent work.
Reducers:  Its reducers with hard gear surface and adopt 3 level helical gears to slow down the speed, so it will have long life and high mechanical efficiency.
Main electric parts:  adopts top quality and famous brand: Siemens brand.
Gear Box:  Electric Crane Hoist Gear Box has specially treated gears for high wear resistance. Each Geared Shaft assembly is supported on ball or roller bearings, to ensure smooth, low-friction operation.
Rope Guide:  Rope Guide is in two halves, ensuring easy accessibility. It encircles the Drum completely so that the rope may not uncoil even when the Hoist is in unloaded condition. The rope guides of our company is thickened and dilated, so that it is not easy to be damaged.
Hook:  The Electric Crane Hoist hook is closed type with high safety; it wrought with special high quality steel.
Rope drum:  It made of cast iron and seamless steel tube, its shell is welded with steel plate. The drum device is the central part of hoist.