HOME »
FAQ
»
using electric hoist
using electric hoist
How to prevent electric shock when using electric hoist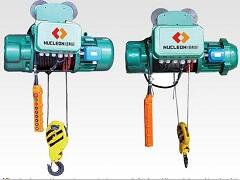 Many workers at work in order to prevent the use of electric shock insulation gloves, in addition, we can not hide in the rain under the tree, but also to prevent electric shock
Electric hoist since the use of electricity, then it must have to prevent electric shock devices, we all know that the use of electric hoist voltage is 380V industrial pressure is far greater than we can withstand the voltage of mankind, this time we will consider how to use it Is relatively safe, the most basic safety measures we are sure to do, but these do not go far enough, this time do not worry, electric hoist a special device to the voltage of 380V into a 36V voltage, wire rope electric hoist Of the distribution box has a transformer can achieve the function, as is to prevent the control handle leakage, which electric injury. This system greatly reduces the possibility of electric shock, reducing casualties. So we must pay attention to when using the inspection.
There is an electric hoist on the shell of multiple grounding, Do the design of electronic control, it should be considered a master of the movement of electrical or people who often operate a master of electrical shock hazard, the control circuit to use the transformer isolation, 36V the following can access the common point, 110V or 220V suspension. Did not check the detailed provisions of the standard, but in doing design has become a habit.
Electric hoist with remote control is a good choice, including 10 tons of the crane are used.