HOME »
Case
»
The drive mode of bridge crane
The drive mode of bridge crane
The drive mode of bridge crane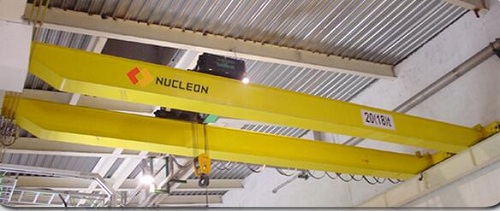 Bridge crane is an important tool and equipment to realize the mechanization and automation of production process. It is widely used in the bridge crane, indoor, transportation, port and logistics turnover and other departments and places.
The crane operation of drive mode can be divided into two categories: a kind of centralized driving, use an electric motor to drive the long drive shaft to drive the active wheel on both sides. The other is separately driven, that is, each side of the driving wheel with a motor drive. In the small bridge crane used brake, reducer and motor are combined into one of the "three in one" drive, big weight of ordinary bridge crane for ease of installation and adjustment, adopt universal shaft driving device.
The metal structure of the bridge by the main beam and side beams divided into two type of single girder bridge crane and double girder bridge. Double girder frame is composed of two main girder and end beam. Double girder frame is composed of two main girder and end beam.
Main girder and end beam rigid connection, beam ends is equipped with wheels, in order to support bridge run on overhead. The main beam is welded with a rail, which is used for lifting the trolley. The structure of the bridge girder type is more than the typical box structure, four truss structure and vierendeel truss structure.