HOME »
Case
»
single girder overhead traveling crane
single girder overhead traveling crane
The structure and component of single girder overhead traveling crane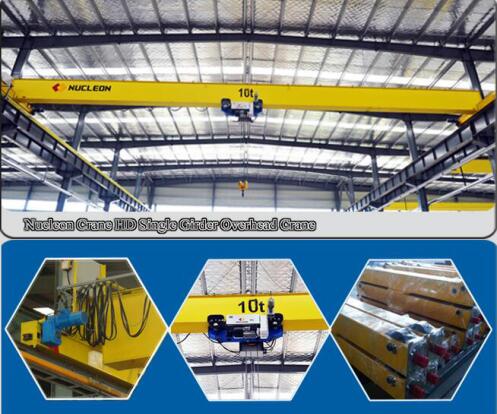 LDA type electric single girder overhead traveling crane used together with CD1, MD1 model electric hoist systems,the utility model relates to a light and small crane with rail operation. The utility model is a general purpose crane, such as a motor grab, can be used for loading and unloading and transporting bulk goods. This product is suitable for lifting the weight of 1,2,3,5,10,16,20 tons, span 7.5- 31 meters. This product has the ground and the operating room of the two forms of operation. The control room is open, closed two, according to the actual situation can be divided into left or right to install the two forms, to meet the needs of users in a variety of situations to choose.
This product should not be in flammable, explosive medium or with a lot of humidity and acid, alkali gas work place, also does not apply to the lifting of molten metal, toxic and flammable work. This series of products is the use of international advanced standards for the manufacture of electric single beam crane products. The whole machine has the advantages of novel structure, good manufacturability, flexible and stable operation, safety and reliability. Complete with CD1 type, MD1 type electric hoist supporting use, a light is a small crane machines. The weight for 1 t – 20 t, span is 7.5-31 m, work level for A3, A5, working environment temperature is 25-40 oc.
single girder overhead traveling crane  is widely used in factories, warehouses, materials, and other places on the occasion of the lifting of goods, prohibited in flammable, explosive corrosive medium environment.