HOME »
Case
»
Single Girder Headroom EOT Crane
Single Girder Headroom EOT Crane
European Standard HD Single Girder Headroom EOT Crane
HD Single Girder Headroom EOT Crane with ND Electric Hoist used in warehouse to do many kinds of lifting works, it is a light duty overhead crane and is widely used in plants, warehouses, material stocks.
The electric hoist runs along the lower flange of the I-steel of the girder to accomplish article hoisting. It features light structure and easy installation and maintenance, and is widely used for different places for hoisting. The classification group is A5, and the operating ambient temperature is -25°c~40°c.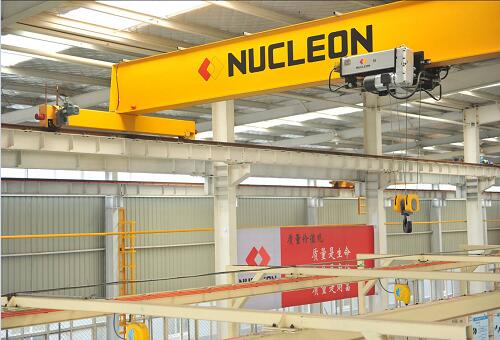 HD Single Girder Headroom EOT Crane adopts the FEM standard, structure is more compact, working more steady with low noise, the motor is ABM, reducer uses SEW, Siemens main electric parts, all these characteristics makes it more has more advantages compared with normal overhead crane.
Whole HD Single Girder Headroom EOT Crane before painting will be done the shot blasting, painting totally four layers including the one layer of priming paint, two layers of intermediate coat and one layer of finishing coat.