HOME »
Case
»
Overhead crane electric winch
Overhead crane electric winch
Safety requirements for overhead crane electric winch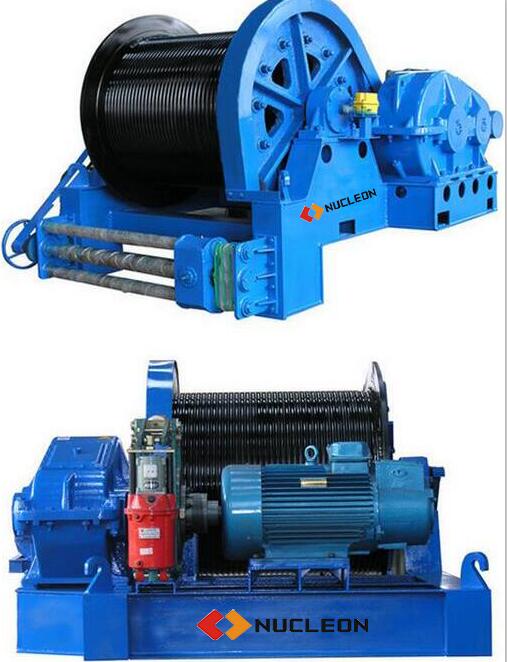 (1) The distance of the electric winch shall be less than 15 meters from the lifting distance of the hoisting machine. If the mast crane is used, the distance shall not be less than the height of the mast.
(2) the center of the reel to the nearest guide pulley distance should be greater than 20 times the length of the reel, when the rope around
When the rope is wound around the center of the reel, the rope should be perpendicular to the centerline of the spool.
(3) the wire rope must be fixed with the reel, the minimum permissible diameter of the reel is 16 to 20 times that of the wire rope. When the wire rope is left to the required length, the wire rope on the reel shall not be less than 3 turns. Sichuan Crane Factory – Chengdu Thai force crane with self-made hoist, safe, stable and reliable.
(4) The hoisting machine must be firmly fixed, solid, stable, to prevent dumping and slipping in the lifting object.
(5) hoist electrical control to be placed on the operator, all electrical equipment should be equipped with ground wire to prevent electric shock, electrical switches need protection.
(6) Before driving, please check whether the parts of the hoist parts are flexible, the brake is reliable and sensitive.
(7) the operator must be familiar with the performance of the hoist, structure, practical experience.
(8) work, the hoist around two meters are not allowed to stand people, running on both sides of the rope and guide pulley around not allowed to stand people.
(9) when the hoist operation, the action should be smooth and uniform, lifting heavy objects should be slowly lifted, when the rope has been tightened, it is strictly prohibited racing suddenly start to accelerate, and should check the rope buckle and the binding of objects is strong, reliable.
(10) is strictly prohibited from the use of hoist, not heavy objects hanging in the air, hanging objects to prohibit people stay or walk.
(11) operation of the hoist to be strictly done, the signal is unknown, rope deviation, from the load brake is not spiritual not drive.
(12) After the hoisting machine has stopped working, cut off the power supply, place the controller in the zero position