Electric Winch
JM model low speed wire rope electric winch has slow hoisting/pulling speed, it is used for hoisting and unloading the weight materials, such as all kinds of large and middle concrete constructure of steel, installation and disassembly of mechanical equipment. it is suitable for construction and installation engineering of constraction, mining area, factory, shipyard and so on.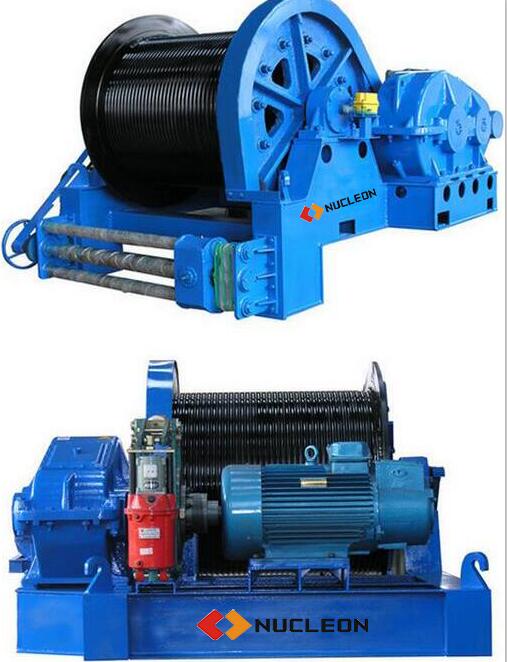 The standard capacity of electric winch: 1t, 1.6t, 2t, 3.2t, 5t, 6t, 8t, 10t, 12.5t, 13.5t, 16t, 20t, 25t, 32t, 50t, 65t.
The Max. rope length reach to 3500m.
The control models: Hand wheel switch or control box with pushbuttons or remote control.
Regards: we have JK model high speed electric winch, if you want higher pulling speed, please check it for more details.
Technical parameter table of JM model slow speed wire rope electric winch
Basic parameter
Rated pull
Average speed
Rope length
Rope dia.
Motor model
Motor power (KW)
Outer size
Dead weight
Model
KN
m/min
m
mm
KG
JM1
10
15
80
9
Y112M-6
2.2
740*690*490
270
JM1.6
16
16
115
12.5
Y132M-6
5.5
940*900*570
500
JM2
20
16
100
13
Y160M-6
7.5
940*900*570
550
JM3.2
32
9.5
150
15.5
YZR160M-6
7.5
1430*1160*910
1100
JM5
50
9.5
190
21.5
YZR160L-6
11
1620*1260*948
1800
JM8
80
8
250
26
YZR180L-6
15
2180*1460*850
2900
JM10
100
8
200
30
YZR200L-6
22
2280*1500*950
3800
JM12.5
125
10
300
34
YZR225M-6
30
2880*2200*1550
5000
JM16
160
10
500
37
YZR250M-8
37
3750*2400*1850
8800
JM20
200
10
600
43
YZR280M-8
45
3950*2560*1950
9900
JM25
250
9
700
48
YZR280M-8
55
4350*2800*2030
13500
JM32
320
9
700
52
YZR315S-8
75
4500*2850*2100
20000
JM50
500
8
800
60
YZR315M-8
90
4930*3050*2250
38000
JM65
650
10
2400
64
LA8315-8AB
160
5900*4680*3200
46000