HOME »
Case
»
Overhead Crane Construction
Overhead Crane Construction
Seven safety points of Overhead Crane Construction rail joint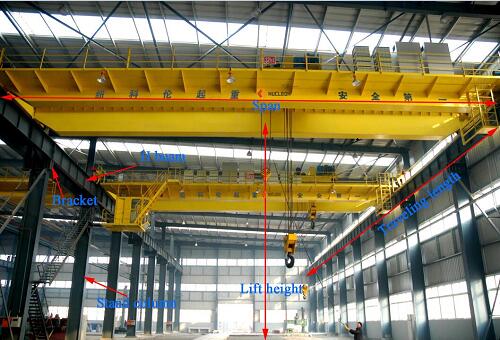 1.when the butt joint is used for Overhead Crane Construction, the top and side joints of the joint should be polished and smooth.
joints using fish plate connection, rail height difference and lateral dislocation should not be greater than 1 mm, the gap should not exceed 2 mm.
3 expansion joints at the gap should comply with the design requirements, allowing the deviation of + 1 mm
4.Pad for supporting the steel rail, Overhead Crane Construction joint plate width (along the track length direction) than other place should be doubled.
With the elastic cushion rail plate, plate specifications and materials should meet the design requirements. Before tightening the bolts, rail and elastic plate tightly; When there is a gap, the plate should be added in the elastic pad under, pad length and width shall be 10 ~ 20 mm than the elastic plate.
The Overhead Crane Construction Check the bolts should not loose phenomenon
On the track of the car stalls should be installed in the crane hoisting, the same span of the two tracks on the car stalls and crane buffer should be in contact. single beam crane for the results of the review to meet the requirements, the results will be filled in the track review record sheet, and receive, before the Overhead Crane Construction installation.