HOME »
Case
»
Nucleon Electric Travelling Overhead Crane
Nucleon Electric Travelling Overhead Crane
China Nucleon Electric Travelling Overhead Crane
Electric Travelling Overhead Crane could be used in mechanical processing workshop, metallurgical factory and subsidiary workshop, warehouse, material yard and power plant for transferring, assembly, inspection maintenance and loading procedures.
Electric Travelling Overhead Crane can also replace common double beam overhead crane, used in light textile industry and food industry manufacturing workshop.
The crane girder is of welded girder construction. This result in lower dead weight with a high degree of vertical and horizontal rigidity and small wheel loads being transmitted to the crane runway!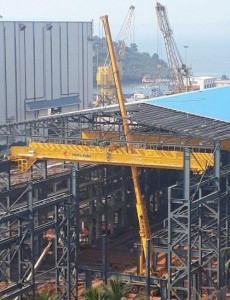 1.the crane lifting weight is           ton.
A.0-10t    B.10-25t    C.25-100t    D.80-120t
2.the crane lifting height is            m.
A.0-5m    B.5-10m    C.10m-20m    D.20m-30m
3.the voltage is            V              HZ 3phase.
A.208/240V   B.220V    C.380/460V    D.400V
the crane work duty is            (normal A3)
A.Manufacturing   B.MetalsProduction   C.Shipyards   D.Power
5.the span of crane is           m
A.5fpm   B.10fpm    C.15fpm    D.30fpm
6.What material will be lifted?
7.the control model is            
A.pendent control   B.remote control    C.cabin control
8.If you need rail and bus bar,please supply the travelling length is            m