HOME »
Case
»
Mobile Gantry
Mobile Gantry
Mobile Gantry Crane (double girder gantry crane 50 ton )
 *Design and manufacture according to GB/T 14406 "General gantry crane".
*Mainly made up of bridge, trolley, crane traveling mechanism and electric system.
 Main Body of Mobile Gantry crane (double girder gantry crane 50 ton )
*Double girder, welded box beams, the camber line is according to national standard.
*High safety, high steel degree
*Adopts high quality carbon steel, Q235B or Q345B.
*The main weld is by submerged arc welding automatic welding, nondestructive flaw detection
*The end truck adopts 10.9 high strength bolt connection.
*The crane traveling mechanism adopts separated driving, and it can use trinity drive too, safe and reliable.
*End beam equipped with buffer block, orbital cleaning device.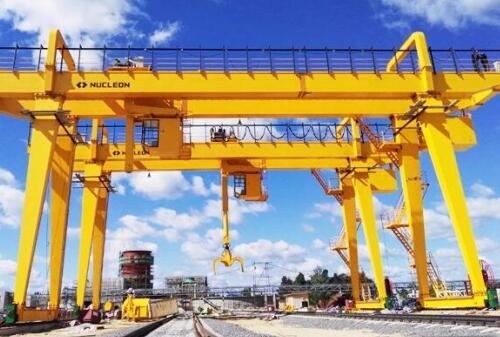 Protection Devices of Mobile Gantry crane (double girder gantry crane 50 ton )
*Preventing hook clashing the top, set shields and barriers
*Circuit self-test protection device, Running the travel limit
*Protecting the current lacking of any phase.
*Outdoor cranes are equipped with lifting mechanism, electrical control box and rainproof devices.
*Anti-collision, sound and light alarm devices.
*Equipped with rail clamp.
*Lifting weight limitation, height limiting, rail clamping device
*Speeding protection, zero pressure protection, the lightning protection
Nucleon Crane Group is china famous Single Girder Gantry Crane Manufacturer and Double Girder Ganrty Crane Manufacturer.
See more:http://www.nucleoncranegroup.com
http://www.nucleonoverheadcrane.com
Email:info@nucleoncranegroup.com
If you have any questions, Please don't hesitate to contact me.