HOME »
Case
»
MD Model Electric Hoist
MD Model Electric Hoist
Commissioning and inspection of MD Model Electric Hoist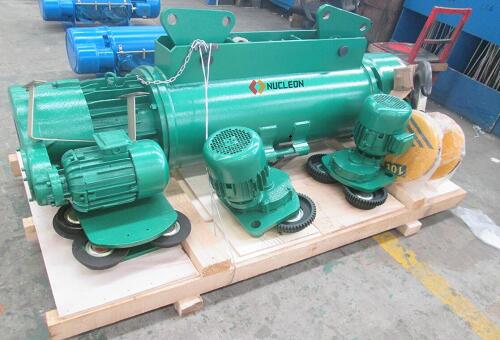 MD Model Electric Hoist is a kind of double speed electric hoist, its test and check the safety about its use. MD Model Electric Hoist in the new installation, after overhaul, idle time of more than one year to reuse the electric hoist, Before using test checks shall be installed in accordance with the relevant test regulations. Ensure that no obstacle within walking distance from the operator, There should be no anomalies in the orbit observed from the ground. Hoist, drop, left and right operation action should be sensitive, accurate, at the same time press a group of buttons electric hoist can not be moved. The limit should be accurate and reliable when the no-load hooks rise to the limit position. Hooks around 360 °. 180 °perpendicular, flexible rotation within range. Pulley rotation without clamping and rubbing, The hook nut anti-loosening device is not abnormal, the hook mouth locking device is normal. Hoisting, lowering and running braking should be sensitive and reliable, The guide rope and other safety devices operate normally and are safe and reliable.
The newly installed MD Model Electric Hoist should be checked according to the above method, Once in use, inspections are required according to the relevant daily, monthly and annual inspections. One of the main advantages of the MD Model Electric Hoist is that when the weight is raised to a specified height, it can be replaced by a button to slow down the lifting speed of the weight and reach the designated position more accurately.
Nucleon Crane Group is a crane manufacturer with well equipped testing equipment and strong technical force. Due to wide range products, good quality, reasonable prices, considerable services and stylish designs, our company has become one of the most competitive crane manufacture for enterprises among crane industry.
Our main products are engineering equipment, including single girder overhead crane, double girder overhead crane, gantry crane, foundry crane, upstroke moving carrier bridge girder launcher, etc. Nucleon Crane Group has transformed to a mature manufacturer with advanced technology.
See more:http://www.nucleoncranegroup.com
http://www.nucleonoverheadcrane.com
Email:info@nucleoncranegroup.com
If you have any questions, Please don't hesitate to contact me.